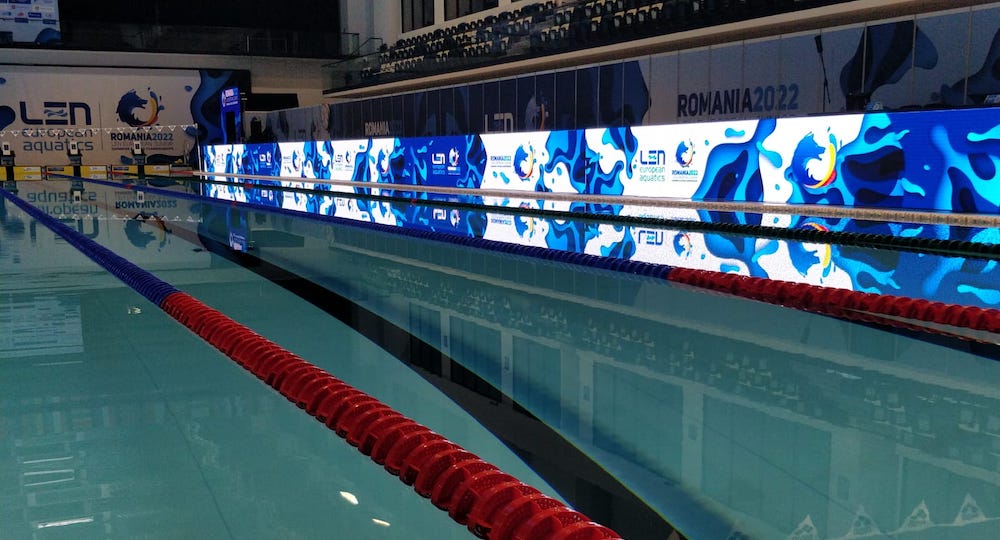 Hosted in a different country annually, the European Junior Swimming Championships were held during the summer in Otepeni, Romania). The prestigious sporting event played host to an impressive 494 athletes from 42 different countries competing to win the coveted medals.
To withstand moisture in the air, but also deliver crisp and high quality content throughout the five day event, technical production specialists at Mobile Event turned to Absen for an LED solution. They opted for Absen's PL3.9W Lite (outdoor) LED panels from the Polaris series to fulfil the brief.
"Absen's PL3.9W Lite was the obvious choice for a challenging project like this," stated George Stirbei, Event Manager at Mobile Event. "I've tested these panels over time and in extreme conditions and they've always exceeded expectations in terms of performance and quality; the side lock function makes it quick and easy to install by just one person. Our company and the client could not be happier with the overall result."
The interlocking panels lined the entire length of the Olympic size swimming pool, displaying promotional content and sponsorship logos viewed by several rows of spectators in attendance on the 50m x 1m LED screen.
Specifically designed for rental staging including outdoor, the PL3.9W Lite was chosen for this project due to its innovative waterproof design (IP65/54) proving ultra reliable in all weather conditions, including extreme humidity experienced in swimming pools. Each panel is front and rear serviceable with swappable power boxes for easy installation and maintenance.
Combined with grey scale coding technology that is human eye friendly, the new control system in the Absen's Polaris Lite range (indoor: PL2.5, PL2.9, PL3.9 and outdoor: PL3.9W, PL4.8W) has greatly improved the industry-common problem of losing grey scale at low brightness, to provide a much more vivid image.
Absen's European Brand and Marketing Director, Jess Golding, attributes the ongoing technological advances in Absen LED to its success in such versatile applications: "It's a pleasure to be involved in projects as diverse as this one – robustness and reliability were key in this install and I'm pleased to hear from Mobile Event that the client was more than happy with the outcome."