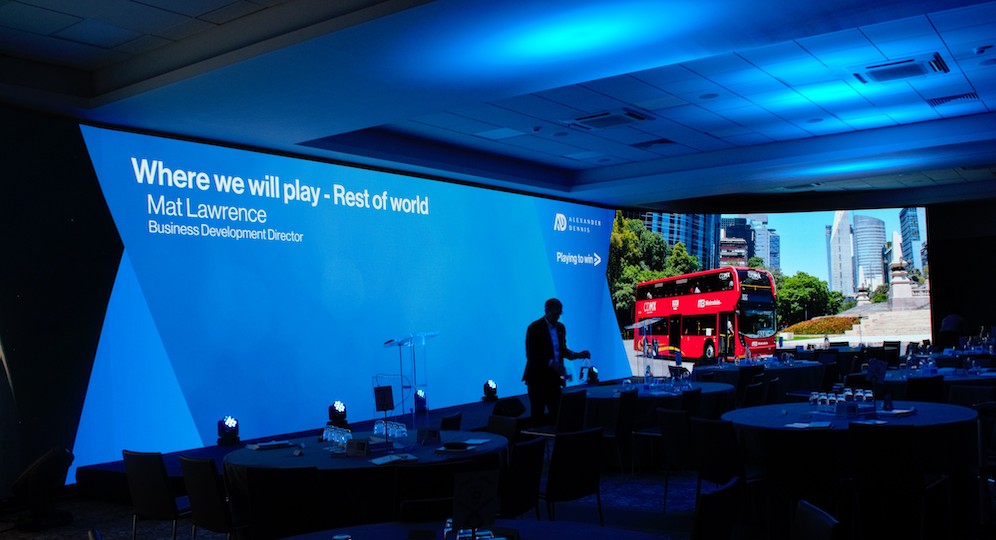 Tapestry Events, has created an impactful and modern backdrop design to reflect the new brand identity of eco-bus company Alexander Dennis, a subsidiary of NFI, during a two-day hybrid event.
Tapestry Events, which has delivered a variety of events for the bus company for over two decades, had a clear understanding of the client's vision and high expectations for this project. The events specialist chose Absen because of a long and positive history with the manufacturer, having fitted a large PL2.5 LED wall at its HQ in Scotland.
"We opted for Absen because its products represent quality and excellence," said Gary Winters, Senior Production Lead at Tapestry Events. "The value, services and support network has been long established between us, which is important given the high-value investment we made acquiring almost 200sqm of PL2.5 tiles."
Alexander Dennis has turned its attention towards sustainability, boasting a range of low and zero-emission buses and coaches that currently operate globally – its vision is to lead the evolution of sustainable on-road mass transportation and mobility.
The event, held at De Vere Wokefield Estate, UK, was an opportunity for Alexander Dennis to launch its new brand identity and to communicate its future plans for the company.
In-person guests were able to view the impressive 27m x 3.5m PL2.5 LED wall, displaying specially designed content, while those who could not attend in-person were invited to view a global live stream of the various presentations, as well as participate in live polls and Q&A sessions.
The PL2.5 LED, part of Absen's award-winning Polaris range, was chosen for this project as it features 1200 nit brightness, UltraBlack Technology and a refresh rate of 3840 Hz – with 2.5mm pixel pitch making it an ideal solution for displaying vivid content to those both in the room and online.
Winters attributes an easy build in the run-up to the event to the lightweight and user-friendly panels: "The PL2.5 panels are small, lightweight and easily connected together, with a magnetic auto-lock/auto-eject function, which ensured that the tiles went together easily…the entire build was very straightforward – and the results were outstanding!"
The LED wall was driven using AV Stumpfl's PIXERA media server, with Barco servers in place for screen management. All the content displayed was created at 10,800 x 1400 pixels by the Tapestry Events in-house studio team.
Feedback from the event was extremely positive, with Jacqueline Anderson, Group Marketing Director at Alexander Dennis saying that it was one of the best conferences they had ever held: "The feedback has been fantastic, the whole team is bursting with pride, positivity and passion for the next chapter in ADL's journey! Being able to convey our strategy in such a polished and professional manner made it even more engaging."
Absen European Brand and Marketing Director, Jess Golding, believes the technological advances in Absen LED will continue to keep the company ahead of the curve when it comes to impressive applications such as the ADL event: "It's a pleasure to have been a part of such an important and successful event for this global company, and I'm continually impressed by how people use Absen LED to make their creative visions become reality."