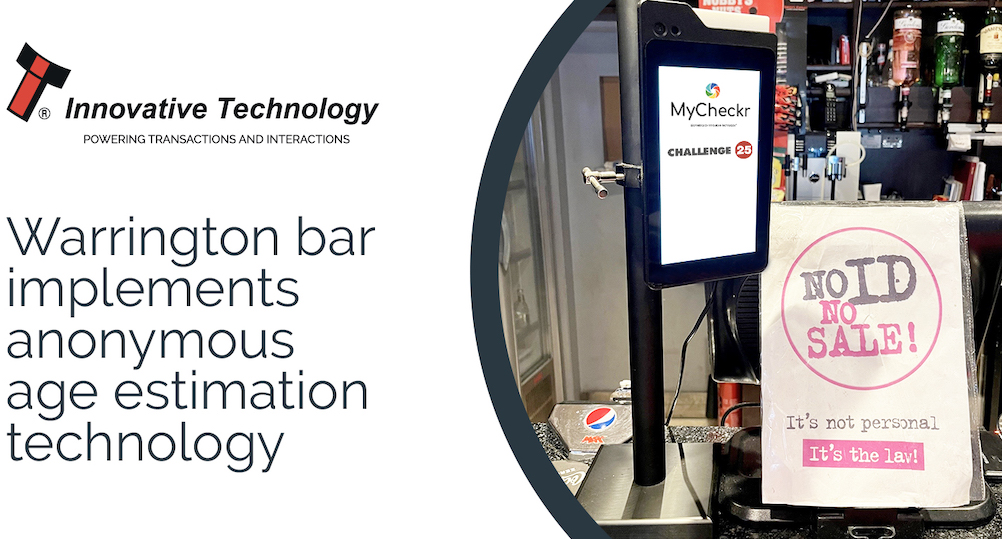 One of the biggest causes of pub arguments and in some cases violence, is when proof of age is requested. Liberty's Gin Bar in Warrington has deployed an age estimation device developed by Innovative Technology.
MyCheckr is an all-in-one device that performs anonymous age estimation to aid with the sale of age-restricted goods such as alcohol, tobacco and vapes. Ken, owner and bar manager said, "We decided to try MyCheckr to help our younger bar staff members who aren't always confident in asking customers for ID." He added, "Ensuring that underage customers are prevented from buying alcohol is essential, so anything to assist our staff is welcomed. Quite often underage customers will come into the pub, not to buy alcohol initially, but to build relationships with the staff and then attempt to purchase alcohol at a later visit. This device not only gives staff confidence to ask new customers for ID, but automatically highlights anyone who appears underage too."
Chris Wright, ITL UK Business Development Manager said, "MyCheckr is a simple, affordable solution that helps the server make informed decisions during the age check process. With no integration required, setup was quick and easy for Liberty's Gin Bar and results are instantly available to staff, as processing is performed locally on the device.
The unit clearly shows the server if a manual ID check is recommended. Turning green if the customer passes the age check, and red if they appear underage – making it a useful aid to help reduce potential confrontation when challenging customers for ID."
Another advantage is that no images or data are stored, and the device has been GDPR certified by Age Check Certification Scheme (ACCS).
Chris Woodall, co-founder of CC Dynamic said, "It is exciting to partner and work on a project with Innovative Technology that really adds value and delivers efficiencies to a business. MyCheckr helps take the stress away from bar staff by using reliable and proven technology, that is simple to use and install with very little training required."
"Our customers have reacted positively to the technology, and we have had no complaints at all," said Ken, "Bar staff feel 100% more confident, especially the younger members who can be reluctant to ask people who are a similar age to them for ID. It is now company policy that all customers must present themselves in front of the device for an ID check unless they are known to us, enabling us to adhere to age- check regulations and our licencing obligations."