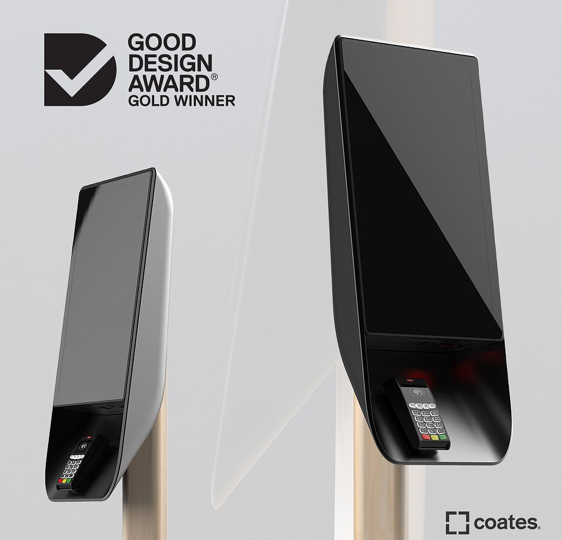 Coates Group has been awarded the prestigious Good Design Award for its K2 Self-Order Kiosk, the highest honour for design and innovation in Australia. The internationally-renowned award was announced during 2020 Good Design Week.
The K2 Kiosk received the esteemed Good Design Award Gold Accolade in the Product Design Consumer Electronics category in recognition for outstanding design and innovation.
Coates Group's K2 Self-Order Kiosk claims to redefine the industry benchmark in its form, function, and flexibility, delivering efficiency and customisation with style. The minimal form factor, design aesthetic and various mounting options allow the kiosk to integrate into different environments, providing the foundation for immersive customer experience.
Commissioned and designed in-house by Coates Group at its global headquarters in Sydney, Australia, the K2 Kiosk is amongst a range of digital merchandising products designed by Coates for its QSR and Retail customers across the world, including Australia, United States, Canada, Europe, Asia, Middle East and more.
The Good Design Awards Jury praised K2 Kiosk, commenting, "There's design excellence in redefining a category that was purely functional and reductionist to something more appealing, attractive and approachable with inviting forms, surfaces, materials and colours. There's a great combination of industrial and natural materials that makes this an inviting product to use. It has a simple form with limited visible technology which makes it less threatening as a tool. Well done."
Rob Cervetto, a Coates Group designer and member of the team that created the K2, explained, "The project presented us an opportunity to reimagine the interpretation of a digital self-ordering kiosk. We carefully considered and challenged our approach to the form, function and flexibility of the kiosk, focusing on the user journey and concealing distracting features – providing visual clarity to the overall design that is clean and inviting, and facilitating an immersive customer experience."
The annual Australian Good Design Awards are internationally recognised awards, with a respected history dating back to 1958. The awards celebrate the best new products and services on the Australian market, excellence in architectural design, engineering, fashion, digital and communication design, design strategy, social impact design and young designers.