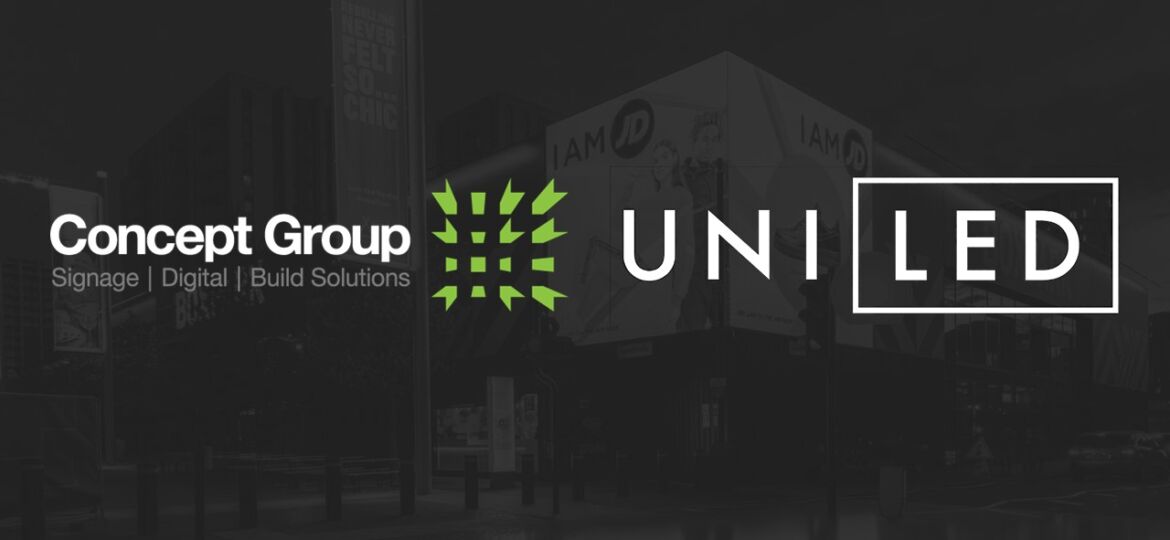 Concept Group, a UK-based sign and large format LED display specialist, has announced an exclusive partnership with UniLED, a UK market specialist for digital screen services and products for the digital signage and digital out-of-home (DOOH) industry.
The formal partnership will see UniLED act as Concept Group's service, maintenance, and software arm to provide an enhanced level of support to its UK-based LED customers, covering the DOOH, sports, transport, corporate, and retail markets.
UniLED already maintains over 4,000 screens in 500 locations across the UK, totalling over 25,000sqm of digital real estate. The company has been at the forefront of the digital revolution, providing the DOOH industry with a range of market-leading products and services, from ad-serving and verification technology to 24/7 monitoring and support.
"We're delighted to formally announce our partnership," commented David Neale, director at Concept Group. "By combining our expertise in full turnkey project design and integration with UniLED's service and maintenance capabilities, we are able to provide customers with unrivalled end-to-end service to help push the digital signage industry forward.
"Both teams share a strong desire and ability to get the job done to the highest possible standard, so we are confident and positive about what the future holds for our businesses and our customers."
Zloof, CEO of UniLED, commented: "We are thrilled to be working with Concept Group to create an industry-leading partnership. By combining our expertise, we are able to offer a high-quality, complete service for clients. We're looking forward to working with them to continue to redefine excellence in digital signage."
Together, Concept Group and UniLED will provide support with best-in-class client response times, supported by powerful service management tools to streamline the operation, management and maintenance of digital signage networks.