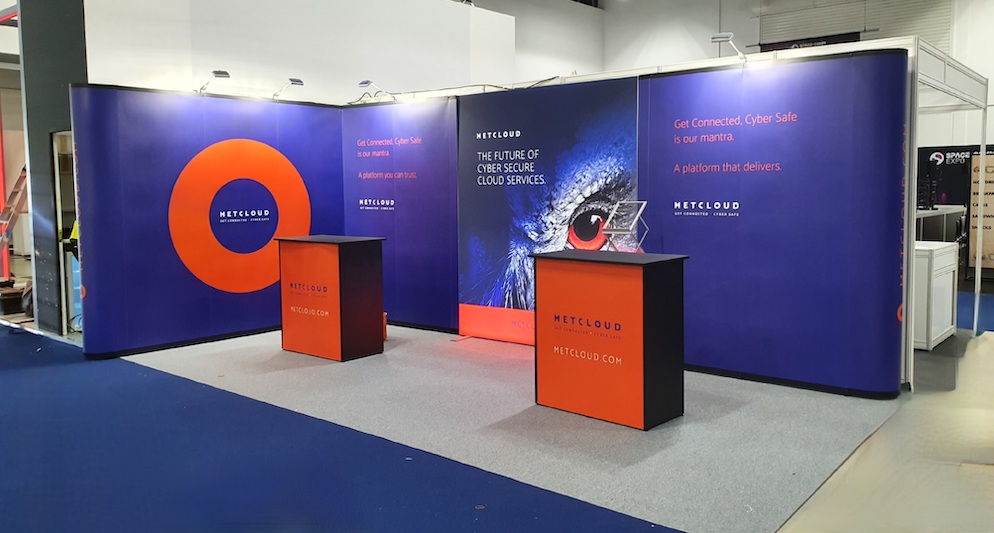 Anna Barker, marketing manager, Nomadic Exhibitions
https://www.nomadicexhibitions.co.uk
More than ever businesses are being held accountable for their sustainable credentials, so how do you ensure that your exhibition display stand is sustainable and doesn't let the side down when it comes to eco-friendliness?
Traditionally, exhibition stands tended to be unsustainable – not just because of the way they were constructed but because of the huge level of waste that was left over and not recycled.
Fortunately, sustainable exhibition stands are now much easier to find. For a long time, reusable modular displays have been readily available but the advantages of them are not always taken. People often miss that they can be reconfigured over and over again, allowing for a huge cost saving to the business and a much-reduced carbon footprint.
Lighting is now also much more eco-friendly than it used to be thanks to LED technology. In fact, it's rare to find anything in an exhibition environment that isn't LED these days so at least this is one area you don't need to worry about!
So, what should you be looking for in exhibition sustainability?
Making your exhibition stand sustainable
These days it is pretty easy to create a sustainable exhibition stand that provides you with the impact you want but also has the durability to be used again and again. Compare this to just a few years back, the options are now much more wide-ranging. Stands that help you achieve your goals are now not only multi-purpose but cost-effective and also recyclable for when the time comes that you no longer need to use them.
Use modular, durable, reusable eco-friendly display stands
If you're planning on using your exhibition display stand once – don't! Instead, look to additional ways you can meet your business needs. If you only have a one-off event, think about exhibition stand hire instead. It will be more beneficial and cost-effective for you. Not only that, but it will give you the chance to test out the type of event stands and displays that may work for you. Trial and error is sometimes the best way to find the ultimate solution!
Often, your company will hold more than one exhibition or event in the year so it can be worth planning your stand with that in mind. The more use you get out of the stand, the lower the cost per use will be and, as a result, the lower its carbon footprint will be too. Manufacturing just one item rather than five or six helps you and helps the planet!
Reusable exhibition stands have their advantages but also do come with some disadvantages, a common one being that they may not always fit the space at the event you are attending.
However, by planning and speaking to a professional exhibition stand designer, you can make sure the stand you use will be created with both practicality and sustainability in mind.
Your designer will carefully ensure that you can benefit from a fully reconfigurable display stand that can be altered to the needs of your event every time you need to use it.
Having a good designer in place with knowledge and expertise of the display systems available will give you the best outcome for the longevity of your display stand. In most cases hiring additional elements is also an option for one-off, larger events.
This could obviously lead to you being concerned that the stand looks the same each time you are at an exhibition or that it doesn't suit the different audience types you may encounter at different events – don't be! The beauty of reusable displays is that you transform them and rebuild them to fit the nature of your events meaning that every time you go to present you could be showing off a fresh new look even with the same materials.
Consider eco-friendly print materials
Many display options now have eco-friendly alternatives – recyclable fabrics and papers, water-soluble inks, and LED lights for example.
Unfortunately many hunt out the cheapest or quickest option. This may sound enticing but can ultimately work out much more expensive both in terms of stand design and transport costs. These short-term benefits don't always offer the more versatile features that a sustainable and reconfigurable display stand can offer.
When you have settled on an exhibition stand designer, use your exhibition brief to help guide them through creating what you want from a stand. Their expertise will become invaluable as they advise you on the best options to create the perfect reusable stand using the most environmentally-friendly products.
Look at your lighting options
Many display stands may require lighting to help emphasise a brand message or act as a call to action. If this is part of your plan, look at LED lighting. Not only is it more efficient than other forms of illumination but, when incorporated into a lightbox display, it creates an ambience of the highest quality but lowest cost when compared to other forms of lighting. Furthermore, the impact it makes on the environment is also substantially less. With LEDs being up to six times more efficient than conventional lighting and having a lifetime of 10,000 hours, you stand to make fantastic cost savings as well as benefit the environment when you go for LED.
Recycle your display
If you can't find a way to repurpose or reuse your display, recycle as much of it as you can. Often, we have seen clients that no longer require their stand for future events alter its use instead and feature it in reception areas or function rooms as a piece of marketing material to showcase successful events or product launches.
During the selection and design process, if you have chosen your stand well it is possible to recycle the entire display. If you have aluminium frames, they can be recycled. If you had fabric or used recyclable paper and inks, you can recycle these too.
It isn't just the display stand that can be sustainable
If you are using plants to dress your display – what will happen to them after the show? With literature, go digital, a QR code scan or an interactive screen can save you lots of cash and give customers something much more memorable. If you give away a freebie or two, look at eco-friendly options or at least consider something that can be used by the recipient. Mugs, notebooks (on recycled paper of course) and other items that aren't just throwaways will be received well but will also promote the brand every time they are used and stop you handing out items that just end up in landfill.