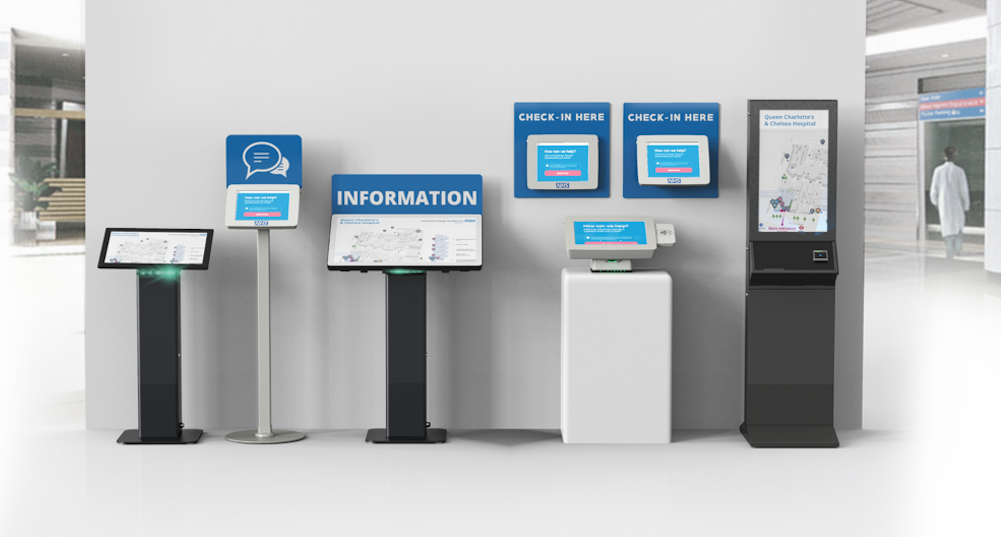 imageHOLDERS has developed a range of kiosk solutions to help eConsult provide a 'digital front door to healthcare' in 3200 GP surgeries and 9 Urgent & Emergency Care (UEC) centres across the UK.
Founded by GPs wanting to modernise healthcare methods, eConsult aims to digitally connect patients to healthcare to improve accessibility, efficiency and patient care. This ethos was the driving force to implement self-service kiosk solutions in healthcare environments.
imageHOLDERS has worked with eConsult to create a tailored product catalogue that meets the individual specifications and requirements of different healthcare settings. Each self-service interactive kiosk with eConsult's digital triage software is highly secure, user-friendly, accessible and health-conscious to reduce cross-infection.
Efficient and effective urgent care in hospitals has never been more important. eConsult aims to radically improve emergency departments by deploying digital triage kiosks at the front door. This intelligent software helps to identify a patient's priority level and, consequently, personalise their care. eConsult's systems reduce waiting times, save essential resources, and improve patient experience and care.
eConsult's Urgent and Emergency Care platform is a self-service patient check-in software system that uses a comprehensive and itemised algorithm to predict patient outcomes based on their symptoms and/or the level of injury. This accelerates the initial personal assessment process.
Patients can use an imageHOLDERS healthcare kiosk that hosts eConsult's software to check in on arrival, inputting general personal details and then answering questions that they would be asked by a nurse or clinician. This reduces the time patients spend queueing at reception, and helps the nurses and clinicians to understand more quickly which patients are the sickest and need to be seen sooner. It also avoids patients having to repeat their reasons for attending with every interaction they have in the department.
eConsult had completed extensive work with their clinical users and patients to best understand what features would be useful to assist usability for all. The final kiosk solution offers UX/UI of the electronic platform, alongside clear and easy-to-understand signage to help users navigate the customer journey. The final signage and kiosk options can be tailored to the requirements for each site while retaining the need for a consistent approach to aesthetics and branding.
The project in more detail
The final kiosk outcome is clinical, and therefore governance and security are paramount. Consequently, the kiosk solution needed to securely house an iPad and the enclosure had to be strong and robust to withstand heavy footfall in the hospital setting.
Accessibility was crucial, as the interactive kiosk needed to be able to service as many users as possible. Therefore, secure fixtures were needed to support the variety of user options, including floor-standing and wall-mounted solutions.
Additionally, eConsult aimed to aesthetically enhance how kiosks looked and functioned within the hospital environment. Historically, eConsult found that the standard kiosks that were attached to benches lacked cohesivity with the setting and did not seamlessly integrate with the available space in waiting rooms. imageHOLDERS needed to ensure the designs were adaptable so that the kiosks looked bespoke for the specific waiting room, while still ensuring complete security and functionality for the iPad tablet and eConsult software.
Close collaboration between imageHOLDERS and eConsult meant both were highly knowledgeable and confident when helping healthcare customers choose a self-service kiosk solution for their specific environment. The eConsult team can assuredly advise how their kiosks should look, and function, plus how to get the benefits of using the imageHOLDERS-eConsult kiosks from the outset.
imageHOLDERS and eConsult have defined a product catalogue of interactive kiosk enclosures to house iPads and the digital triage software, to ensure choice and flexibility for new hospital Trusts and their individual requirements. This tailored product catalogue is now an integral part of eConsult's sales and implementation resources, helping their customers choose the right products for their needs.
Nicola Ryall, Secondary Care Implementation Lead at eConsult, said: "My role means I must be able to advise customers about the best products and approaches, to optimise the use of our products to improve patient care. Working with imageHOLDERS has meant I am able to be confident that I am offering them the best advice, quality products, a quality installation and a quality service supported by a supplier who really understands both our needs and the customer's."
Jon Ellis, ImageHOLDERS Senior Account Manager, who worked with eConsult, added: "Working with eConsult is a real pleasure, their clinical background means they not only care about the patient experience but know how to make it flow efficiently. They have helped shape our hardware offering using knowledge that can only be gained by having been on the frontline of healthcare provision
"Given our reliance on healthcare services in the UK over the last few years in particular, it feels great to be part of creating a solution that will genuinely help both staff and patients. I look forward to getting more hospitals using the solution."