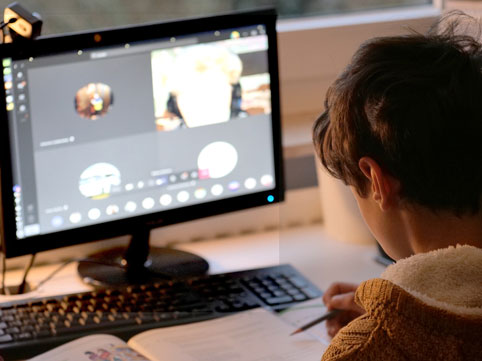 By Nadav Avni, Chief Marketing Officer at Radix Technologies
In today's super-charged information-driven society, educational technology is fast becoming a critical tool in achieving better learning outcomes. The comparative advantages—relative to traditional "chalk-and-talk" classroom environments—include creating immersive learning experiences, scaling up instruction, facilitating varied and innovative instruction, and increasing student engagement. When schools use technology to enhance the work of educators and to improve the quality of teaching, learners thrive.
With this increased use of technology comes an increase in responsibility to manage these devices appropriately, while also maintaining a safe learning environment. This means having an educational technology device management strategy in place so students can use tablets, laptops and touchscreens without compromising security or impacting performance.
Educational technology device management can be a challenge if you're not properly prepared. Mobile device management (MDM) solutions were developed with these concerns in mind, providing scalable, comprehensive management solutions that can regulate a mobile network while also increasing its value.
The mad scramble for educational technology devices
Survey results released some 18 months before the pandemic struck show that 82% of teachers agreed that educational technology tools such as laptops, tablet software, learning apps, smart boards, and student portals "have not only brought the classroom into the modern age but have also enhanced learning and teaching."
Widespread school closures in many markets because of lockdowns resulted in a rapid increase in demand for mobile devices to meet the need for distance learning. This has led to a significant uplift in demand for devices such as laptops, tablets, Chromebooks, touchscreens and other digital tools. Along with contributions from the private sector, Edtech Evidence Exchange estimates that the US collectively spent between $60 to $75 billion on ed-tech in 2020!
School systems differ in many dimensions and each system is likely to have different needs for ed-tech interventions, as well as unique infrastructure and capacity to enact such interventions. A smart first step for any school system to determine whether or not it should invest in education technology is to diagnose its:
Specific needs to improve student learning (eg raising the average level of achievement, remediating gaps among low performers, and challenging high performers to develop higher-order skills).

Infrastructure to adopt technology-enabled solutions (eg availability of space and outlets, stock of computers, and Internet connectivity at school and at learners' homes).

Capacity to integrate technology in the instructional process (eg learners' and educators' level of familiarity and comfort with hardware and software, their beliefs about the level of usefulness of technology for learning purposes, and their current uses of such technology).
Managing educational technology devices
Protecting and preserving the huge investments made in educational technology will require more than just a default system updater. Specifically, monitoring, securing and maintaining smart devices throughout the school district will need robust device management software.
A dynamic management solution should be able to keep each device in peak operating condition, including performing updates and maintenance checks to firmware, operating systems and installed apps. It should handle security for the entire network of devices—access, geolocation and even authorised applications should all be under its control.
Ideally, the ultimate device management software should have the following features:
Powerful management layer
Deploying a fleet of school devices, whether to individual students or to schools for classroom use will require a powerful management layer that's capable of maintaining the connection of each device to the school network and its files. At the same time, the management layer can provide tools and services to the school IT support team in order to diagnose and monitor any problematic units.
Cloud-based remote access
Connecting to hundreds or thousands of school devices wirelessly and simultaneously can only be possible through remote access via cloud systems. This allows school district management, the district IT administrator and teachers to log in to services anywhere within the district.
Cross-platform support for all types of devices
Recognising that some districts may not have enough funding to provide all students with school devices, they may resort to allowing BYOD (bring your own device) access to the educational platform. Disadvantaged students can't afford to be choosy with their equipment, so the device management software should be the one to adjust. Ideally, it should accommodate any BYOD operating system and provide equal-level access to student devices.
Robust security measures
Monitoring school-issued devices means more than just allowing them to connect to the school network. In particular, school touchscreen devices should remain dedicated units that can only run educational technology applications and lock everything else from students. In addition, device management security should have the ability to geolocate and track individual devices and check if they are being used appropriately. Administrators can lock or freeze units suspected of being transported across districts. In case of suspected breaches, admins can also wipe all data from any connected device.
Multiple access level assignments
The ideal educational technology device management software should recognise that different school officials may need access to different types of information contained in school-issued devices. IT administrators would require complete access to the system settings and applications in order to manage them. Meanwhile, school executives would need access to usage data and user profiles. Providing different access levels based on requirements helps avoid too many incursions into sensitive areas.
Analytics and reporting function
Gathering information such as user data on frequency and duration of device use, time of use, preferred applications and others, may help develop insights. These can help when considering add-on features for the next generation of devices. In addition, integrating powerful analytics features can help consolidate results into actionable data that can help address current issues with the devices.
Educational technology investments deserve an equally-capable device management software
Covid-19 has radically reshaped the way people work, learn and interact. Schools and institutions of higher learning have had to reassess how they currently operate, seeking new teaching and learning strategies in the face of a rapidly changing professional landscape.
An organisation's workforce technology or stakeholder access to the technology is among the greatest challenges managers are facing. With the substantial tech investments by education officials nationwide—plus the reality that online learning is here to stay—securely managing school devices is as crucial as acquiring these digital devices.
Default system monitoring and updates are definitely not the most effective ways of securing your expensive investments. Getting the best educational technology products out there deserves getting equally reliable device management software. Figuring out how to ensure that necessary devices are receiving the proper maintenance and protection is key to moving forward successfully. MDM can help you get there, fast.