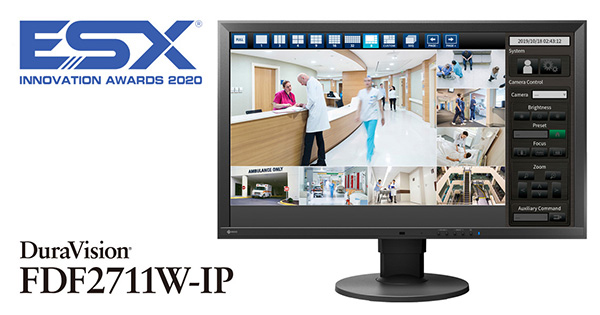 EIZO has announced that its DuraVision FDF2711W-IP monitor won the Electronic Security Expo (ESX) Innovation Award in the category of video surveillance.
The ESX Innovation Awards program recognises innovation in electronic security and identifies next-generation products and services that will help advance the industry forward. Candidates for the award were assessed based on the benefits they provide to end users, as well as to dealers and integrators. The DuraVision FDF2711W-IP won in the Video Surveillance category, which covers monitors, cameras, video management software, and other hardware and software solutions related to surveillance systems.
The 27-inch DuraVision FDF2711W-IP connects directly to an IP camera or switch to display video streams over a network. It does not require a PC, software, or other hardware to operate, greatly simplifying installation and saving time and labor costs. This also eliminates several points of failure by heavily reducing the amount of equipment needed compared to a conventional setup.