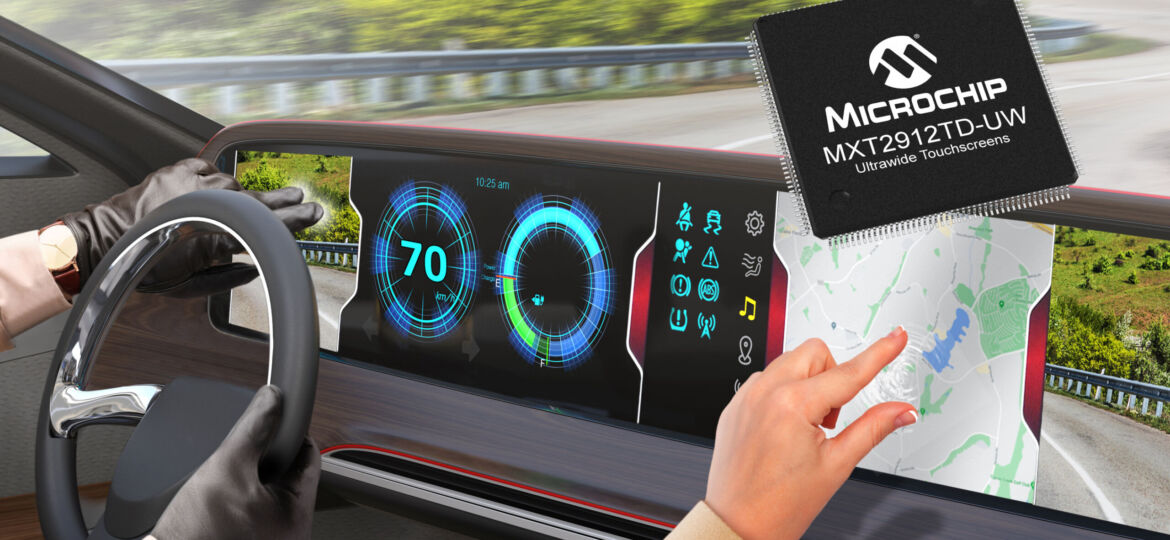 To meet the need for safe, intuitive and easy-to-use user interfaces within automotive vehicles, designers are continuing to consolidate the vehicle's cluster, centre stack and co-driver displays into very wide screens. Streamlining and simplifying system development for these ultrawide screens often seen in electric vehicles (EVs), advanced driver-assistance systems (ADAS) and premium vehicles, Microchip Technology has announced its maXTouch MXT2912TD-UW touchscreen controller. This automotive-qualified, single-chip solution addresses display sizes up to 45in with a very wide aspect ratio, supporting liquid-crystal display (LCD) and organic light-emitting diode (OLED) display technologies.
The MXT2912TD-UW reduces the need for multiple touch controllers within a vehicle's human-machine interface (HMI) display. This single-chip touch controller provides the highest report rate for wide displays and is independent of the display resolution, helping achieve the same experience that users have become accustomed to with the smartphone. Also supported by the exceptional maXTouch family's intrinsic Signal-to-Noise Ratio (SNR), the MXT2912TD-UW enables detection and tracking of multi-finger thick gloves through a wide variety of overlay materials and thicknesses, even in the presence of moisture.
Driven by the ISO 26262 specification for functional safety in road vehicles, the MXT2912TD-UW contains a variety of safety-related features, simplifying the display module system's path to functional safety certification. These include periodic self-test, touch sensor test, internal flash and RAM tests, full signal data path integrity checks and additional microprocessor (MPU) core testing. The embedded firmware is developed to Automotive SPICE processes.
Fanie Duvenhage, Vice President of Microchip's human-machine interface business unit, said,
"The automotive industry is driving new innovations in interior design, including the integration of sleek human-machine interface concepts. Microchip enables these revolutionary designs with our new touch controller, supporting wide aspect ratio touch sensors with our unique and patented technology.
"Our single-chip solution offers display makers and automotive Tier 1 suppliers simple and known touch solutions for modern vehicle HMI systems, reducing cost, risk and time to market."
To support its touchscreen controllers, Microchip also offers complementary devices such as low-dropout regulators (LDOs), 8-16-and-32-bit microcontrollers (MCUs), controller area network (CAN) and CAN physical layer (PHY) controllers and more.