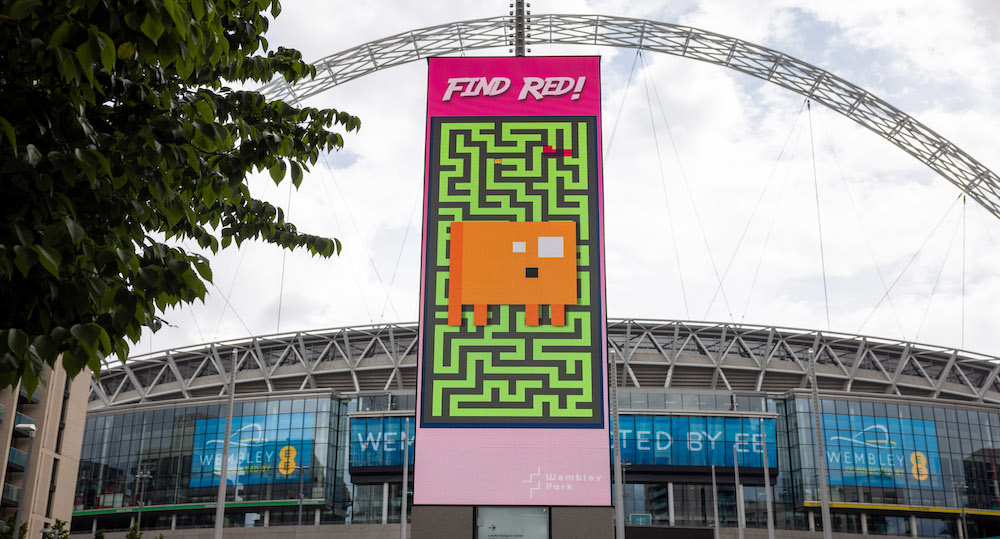 London's newest playable neighbourhood, Wembley Park, launched a unique, interactive digital PlayDays event concept across several dates in August. The PlayDays: Creatures of Wembley Park event turned the North West London neighbourhood into an interactive video game console where children of all ages could use everyday objects to make the urban landscape playable.
The event was curated by Walt, a new studio led by Iain Simons, founder and creative director of northern England's acclaimed GameCity Interactive Entertainment Festival, and co-founder of the National Videogame Arcade in Nottingham, together with Wembley Park.
Visitors were able to take control of custom joysticks, jumbo buttons, and even a programmable banana to play a series of short games on two 9m tall, 360° wraparound digital screens on Olympic Way, directly opposite the iconic Wembley Stadium.
Visitors also had the opportunity to spot and collect digital 'creatures' by playing a series of short games. Players completed mazes to help the creatures find their friends, enjoy balance challenges, practise their speed-count skills, complete colour memory challenges and more. For the very youngest participants, there were creatures that just want to play, with players able to tickle them and make them jump around. Each game lasted 90 seconds.
PlayDays builds on Wembley Park's reputation as an open-air canvas for interactive and immersive art. Since 2018, the neighbourhood has hosted immersive seasonal installations and experiences and a series of fascinating digital artworks as part of its free public art trail.