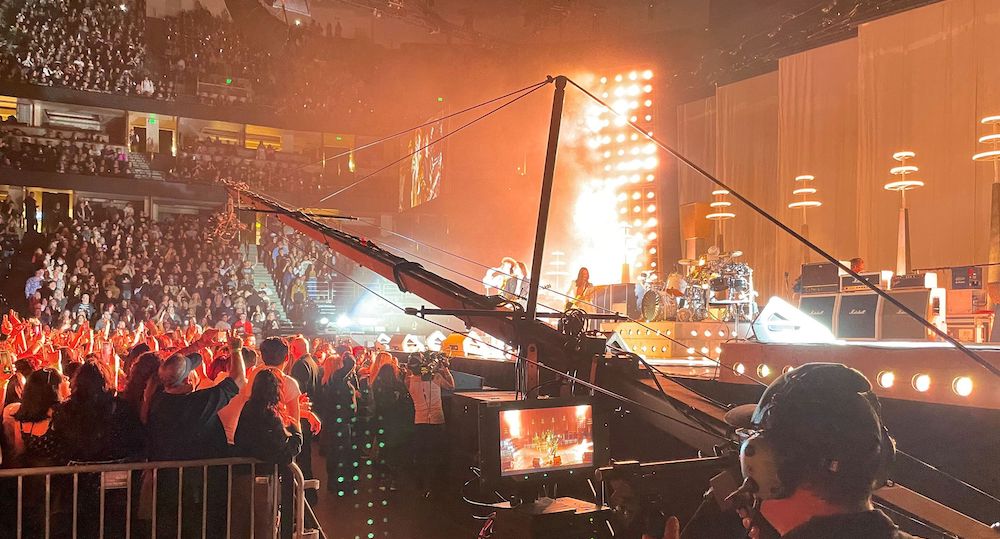 AV Stumpfl's industry-standard Monoblox projection screens helped deliver visual impact for Dreams in Gold, the latest world tour by Grammy-winning rock revivalists, Greta Van Fleet.
For the final North American leg of the tour, Gateway Studios & Production Services (GSPS) provided a 4K video production package comprising equipment from Ross Video, Panasonic, Canon, Fujifilm (Fujinon lenses) and Barco (4K projectors). GSPS also supplied projection screens for the shows, choosing Monoblox projection surfaces and frames from its existing inventory of AV Stumpfl screens.
Andy Gerber, president of production services for GSPS, said it was a "bittersweet" moment to see Dreams in Gold come to an end, having "supported the tour with video since last August", but praised the work of the GSPS video team, who used all the AV tools at their disposal to deliver an electrifying production worthy of the band's brand of 'classic rock and roll at its finest' (concert review, March 2023, QRO).
For the tour, the Monoblox screens were used for IMAG purposes, allowing the band to be visible to the crowd even in large arenas such as the 19,000-capacity Golden 1 Center, the 19,000-capacity AT&T Center in San Antonio and the 21,500-capacity AMALIE Arena in Tampa. GSPS rear-projected the video content, with a throw distance of between 35ft and 65ft (approx 11-20m) depending on the size and lay-out of the venue.
"We had a blast on the Dreams in Gold tour, providing our 4K video production package to one of the most exciting bands in rock and roll today," said Gerber. "When we were also asked to supply projection screens for the tour, it was a no-brainer that we'd turn to our stock of Monoblox, whose reputation for ease of use, superior build quality and high durability means it is rightly regarded as a standard in the live-touring industry."