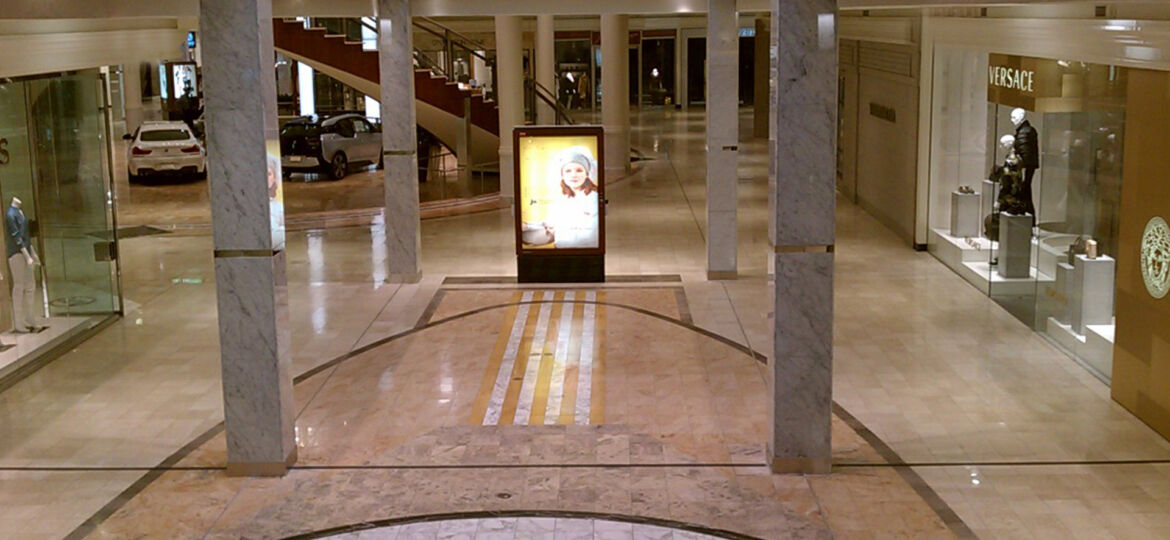 The surge in online shopping, accelerated by the COVID-19 outbreak, has left many retailers fearing for the future of the bricks and mortar store. ONS figures for June show that 31.8% of retail sales occurred online which, although down slightly from 33.3% in May, is a big jump from the pre-Covid figures of 20%. Yet despite these numbers, last week it was announced that Amazon could be set to open up to 30 physical, cashier-less shops in the UK.
The news may be surprising, but it is a good sign that the physical store is here to stay. Since stores began to reopen in June, the sector has grappled with how to serve customers while keeping health and safety front of mind. Appropriate measures have had to be put in place and maintained to protect employees and staff, without jeopardising customer experience. But Amazon's move is indicative that the COVID-19 pandemic has not killed the highstreet just yet – rather, increased health and safety measures could be helping to shape the future of the retail store through the increased presence of technology.
Digital signage and displays
Businesses have a duty to remind consumers of the governmental guidance for social distancing, and enforce it where possible within their premises. Digital signage placed around the store can serve as helpful reminders of this, as well as helping to navigate shoppers safely around a one-way system. Digital screens can also be updated in real-time and remotely, reducing human touch points and the resources required to replace paper signage.
In addition to screens located inside, digital signage can be displayed in shop windows for visibility outside of the store. Social distancing guidance means that queuing to enter a physical space has become the norm, which can be frustrating for both consumers and the staff managing the queues. This lack of transparency may lead shoppers to go elsewhere. Placing digital signage in display windows can be used for marketing purposes, as well as to display how many people are currently in the store – in real time – against the store's maximum capacity. Larger retailers could even install in-store sensors that collaborate with these screens, enabling greater accuracy of footfall reporting.
These solutions can bring a multitude of positive results. For example, the screens provide an effective way to keep customers engaged while queuing, as well as potentially improving marketing techniques – for example, the retailer could display content that encourages photos to be taken and published on social media. They also provide full transparency of waiting times to enter the store.
A good example of software which can support this is NowSignage – the cloud-based, multi-screen Content Management System (CMS). A solution such as its Capacity App can help to pull real-time data by integrating with cameras, supporting live capacity counts on screen and removing the need for door staff with hand-held clickers. Additionally, solutions such as these provide businesses with access to a wealth of data that can be used to inform marketing tactics, by showing the best times and days to display particular content based on footfall trends.
Kiosks and dispensers
In addition to digital screens, technology solutions such as kiosks and sanitiser dispensers can also help to support health and safety measures within the store, while enabling the shift towards a more tech-forward future. Going completely Amazon-style cashierless might not be feasible for all retailers, but increasing the amount of self-serve kiosks around the store could help to speed up the pace at which consumers buy their items and leave, reducing queue times outside. They can also help to reduce the health risk for staff and consumers – particularly if they include voice-activated functionality – while also upgrading the look and feel of the traditional store.
Software by companies, such as Sodaclick, use vision AI to provide voice-activated, interactive, digital signage solutions to support self-service kiosks in stores. Using machine learning, multilingual neural net speech recognition and vision detection, Sodaclick's Voice solution can help retailers keep customers and staff safe, while also enhancing an immersive and hands-free experience.
Additionally, hand sanitiser dispensers attached to digital screens can serve as helpful reminders for customers to wash their hands as they move around the store. A good example of this is the LCD Hand Sanitiser Display by OneDigital. Its information screen can display important governmental guidance while providing shoppers access to antibacterial hand gel, mitigating the extent at which germs may spread across the store. Then, by connecting to a CMS, businesses can monitor the sanitiser solution levels remotely and receive instant notifications when they need refilling. 
The future tech-first retail store
While such technology is being deployed across the retail industry to first and foremost support health and safety measures, the increased presence of digital solutions could be the necessary catalyst for retailers to upgrade their stores, particularly if they want to compete with the likes of Amazon. The novelty of cashierless stores is currently an effective marketing technique, but the more consumers become accustomed to this high-tech environment, the more necessary it will be for retailers to rethink their physical space.
For example, retailers may look to increase their use of LED video walls to enhance the customer experience through storytelling and animation, or even turn to more experiential retail techniques such as immersive or virtual experiences. It is difficult to say how much of the traditional store will survive as we transition towards a more tech-driven future. However, what is clear is that the highstreet will bounce back from this temporary slump. Provided retailers take the necessary steps to innovate and upgrade their stores with new technology, the future is looking bright for the retail industry.