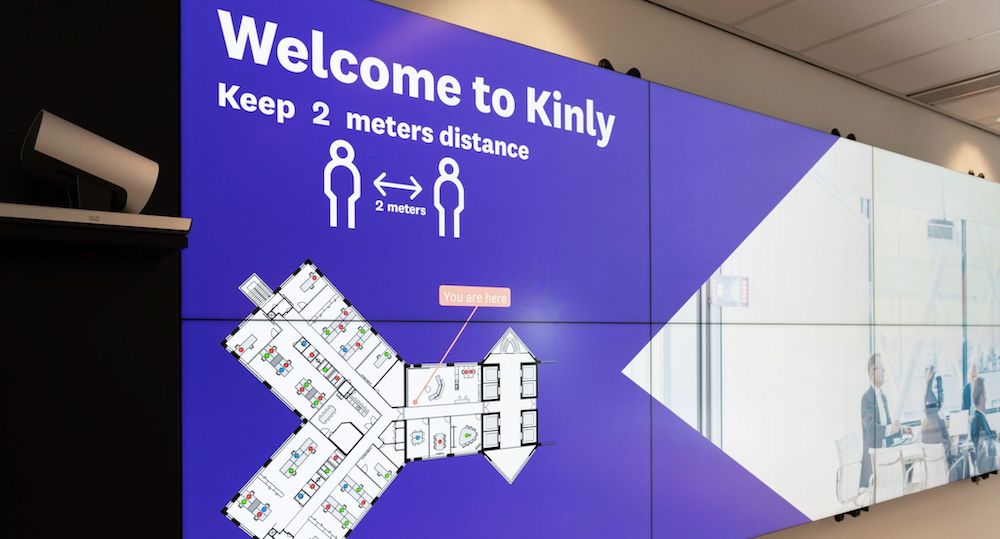 Taj Ghere, Managing Director, UK, Kinly
https://www.kinly.com
Since the pandemic hit, we've seen a huge shift in the way we work, with more and more companies taking a hybrid approach and many allowing their workforces to go completely remote.
While there are many positives to remote and hybrid working, this change has also coincided with a huge fall in employee engagement. In fact, Gallup's latest State of the Global Workplace report suggest that only 21% of employees feel truly engaged at work.
To address this drop, companies adopting new working practices need to put more emphasis on employee engagement, especially those asking workers to be in the office at least part of the time. Today, organisations need office environments that provide a positive experience for employees, make them feel part of a team, and that make coming into the physical workspace not feel like a drag.
This is where digital signage comes into the mix…
Maximising employee communication
Perhaps the most obvious use of digital signage is to communicate with staff on the ground. For big organisations with large offices, public screens have always helped communicate messages to teams. Today, that role is more important than ever. With so many people working from home, half-empty offices can feel cold, empty and uninspiring.
Digital signage is a great way to display real-time information from across the business. Whether it's an inspiring message from the boss, positive content from internal social channels, or even real-time company growth figures, digital signage can brighten and fill an otherwise empty space.
Of course, digital displays still provide a good opportunity to share essential updates about events or all-hands meetings, but they're so much more than that. With the right digital signage businesses can turn half-empty offices into 'phygital' hives of online and offline activity.
Digital signage for connectivity
If your company is operating using a hybrid working model, staying connected can be difficult. With different team members in the office on different days it can be hard to emulate that sense of togetherness, especially in meetings. By using high-res screens to engage with your remote employees you can make teams feel more connected with their colleagues at work.
Hybrid meeting rooms, collaborative whiteboards, and sophisticated full room displays can all be exciting ways to add the spark of connectivity back into your hybrid work environment.
Promoting wellbeing and motivation
Since the majority of office employees switched to hybrid and home working, 27% have reported a drop in their motivation. Unmotivated employees are less productive, less likely to stay in their jobs, and – most importantly – less happy to be at work. When employees do come into the office they are often greeted by empty chairs and an environment that feels even less inspiring than home.
To address this issue, many companies are looking to introduce a little workplace culture – literally! Research has shown that art in the workplace helps businesses address key challenges such as reducing stress (78% agree), increasing creativity (64% agreed) and encouraging expression of opinions (77% agreed).
And digital signage can provide a great way to bring these creative, interactive art installations into the workplace. These installations have a proven impact on employee wellbeing and can give a sense of connection with the values of the business and the wider community.
Displays can also be used to uplift and motivate employees. Examples of this include sharing celebrating company successes, sharing work milestones, and showboating great work from employees. These are all great ways to keep staff engaged and encourage them to take a break from the home office and enjoy coming into the physical workplace.
Digital signage and recruitment
While most companies are switched on to the benefits of digital displays for current employees, what many overlook is the effect this technology has on new recruits.
With interviews reverting back to being in-person, your office space is a huge selling point for new hires, especially if you are asking employees to spend time there regularly. By using digital signage creatively, you can build a futuristic and engaging work environment. From personalised art to brainstorming pods, the right technology can help turn outdated offices into interactive and innovative workplace hubs.
Looking ahead
There are many types of digital signage which you can incorporate into your company's workspace, but before deciding which style is right for you, it's important to research the needs of your employees. As with any workplace tech, it's important to start with employee goals in mind and work backwards from there.
What is stopping employees from feeling engaged at work? Is the workplace uninspiring? Are people feeling distanced from their colleagues? These are the questions that will help decide the best possible technology for your organisation.
Digital signage is evolving every day and the applications go far beyond a traditional lobby greeting screen. Ultimately, this technology is about maximising communication and making the workplace a fun, exciting and creative environment. This not only encourages collaboration and drives employee motivation, it can also provide an essential way to boost productivity and improve the bottom line.