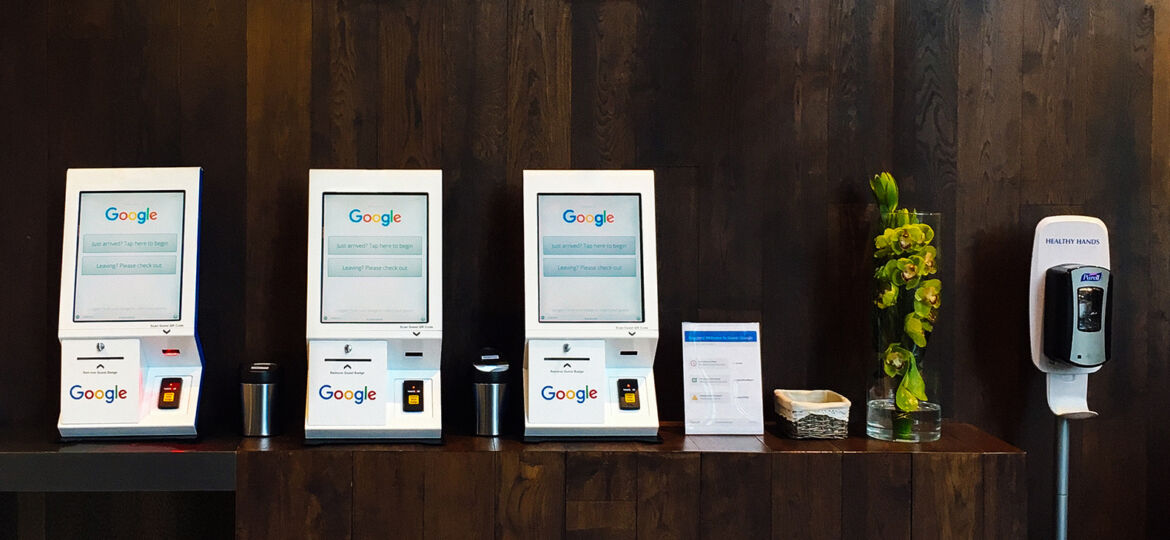 With customers such as Google with 277 kiosks deployed over 120 cities in 44 countries, Time Data Security (TDS) provides a cloud-based visitor management solution that can be self-service operated via kiosk, tablet or from reception. The Quick Register Portal streamlines check-in processes and allows businesses to upload multiple invites, view arrival status, generate pre-registered lists and send QR codes for quick check-in.
With the recent Covid-19 pandemic in mind, it is essential that any organisation utilising a digital visitor management solution in such a pivotal time for workplaces has a solution that is accurate, reliable and consistent. TDS Visitor as a visitor management software solution, combined with Star is able to achieve just that.
Together with long term partner and kiosk specialists Evoke Creative, TDS provides two kiosk solutions for simple and efficient user experiences: a free-standing kiosk – a self-supporting unit that allows visitors, contractors and guests to check-in, capture photos, sign NDA's and print visitor badges without requiring receptionist assistance. With QR code scanning functionality, the kiosk facilitates high volumes of rapid check-in processing; and a counter-mounted kiosk – delivers self-service visitor processing and management. This touchscreen-enabled device provides visitors and guests with a solution that is optimised for high levels of visitor traffic processing.
For the free-standing and counter-mounted kiosks, TDS turned to Star and integrated the specialist packaged printer TSP743II HI X with CloudPRNT. With a built-in HI X interface, the printer is cloud-ready and with its unique multifunctional capability offers a versatile printing solution.
Widely used in a range of kiosk applications the TSP743II HI X combines speed, reliability and ease of use to produce high-resolution graphics and barcodes for tickets, receipts and labels. Operating at 250mm/sec, the printer can be vertically mounted and can accommodate a 100mm diameter paper roll with 60% more paper than on a standard 80mm diameter roll, labeling capability and heavier ticket stock for 58 and 80mm wide media. Furthermore, the printer features a black mark sensor for fixed-length tickets and labels. In addition to benefitting from Star CloudPRNT technology, it provides the ideal solution for use with Android and Windows tablets.
When planning for and welcoming visitors and guests, TDS Visitor manages the full visitor lifecycle end-to-end from pre-registration and self-service checking in to notifying hosts of visitor arrivals and checking out ensuring all appropriate health, safety and legal requirements are met. Completely future-focused and globally scalable, managing visitors, contractors and events from one centralised location, TDS Visitor provides a fully integrated solution.
As Neil Fox, Head of Marketing at TDS, comments: "TDS Visitor is the most advanced, flexible and complete visitor management solution on the market allowing businesses to pre-register guests, benefit from live tracking of visitors on-site while providing full reporting and analytics dashboard."
He adds: "TDS has partnered with Star for a number of years. By integrating the TSP743II HI X we benefit from a robust and versatile printing solution that precisely meets our requirements. As streamlining processes and facilitating contact tracing is key in today's climate, our kiosks provide businesses with a safe and secure check-in solution for managing visitors, contractors and guests."