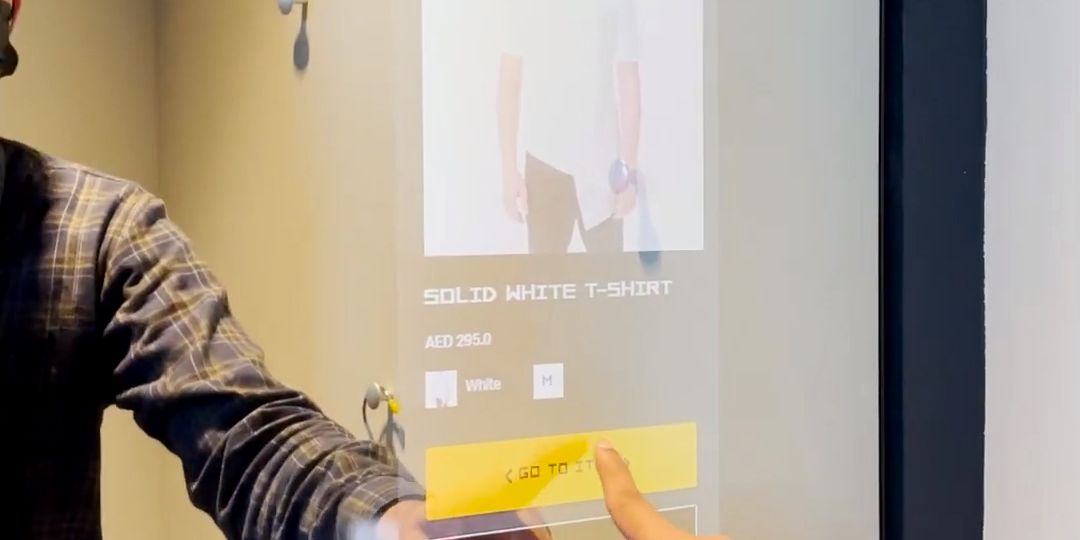 The THAT store, a futuristic shopping experience located at the Mall of the Emirates, Dubai, opened its doors this year. The store incorporates innovative digital elements that elevate the traditional shopping experience. One of the most notable and eye-catching innovations at this store are the Mirandda powered smart fitting rooms. The latter is equipped with Smart Mirrors- a digital solution provided by Blue Rhine Industries. This organisation is a leading provider of digital and static signage as well as system integration solutions in the UAE.
Mirandda Smart Fitting Room solution, developed by the Spanish Digital Signage software manufacturer, ICON Multimedia, supports the omnichannel strategy of this new concept store, which aims to attract customers to physical areas, creating 360º shopping experiences in its facilities to increase sales.
The solution in the fitting rooms features an interactive experience that automatically detects the items brought into the room by the customer (through RFID technology), and can instantly display alternate options in terms of sizes and colours to the viewer. The smart mirrors also automatically suggest outfits that match the item that was brought into the changing room. The mirror is equipped with cutting-edge functionality that allows customers to make requests for other garments, without actually leaving the fitting room. These requests made via a dedicated THAT Store app connected to every Smart Mirror, and are received by the in-store employees on their mobile devices. The employees can then immediately take action on these requests thus reducing lead times at the store. These mirrors significantly improve in-store experiences for customers, provide tremendous value and utility and strengthen the interaction and engagement between the customer and the brand.
Among the characteristics incorporated by ICON Multimedia's smart mirrors in THAT, there is the ability to simplify the traditional sales process by embodying QR codes. This approach allows customers to dynamically generate QR codes that embody their shopping carts. The in-store staff can then merely scan the QR code via their mobile devices and complete the transactions in a matter of minutes. The mirrors are also equipped with presence sensors that allow the systems to understand the movement of customers across the room. This removes the need for customers to manually end their experiences, as well as equips the mirror with the ability to alert new customers that it is inactive until proper disinfection services are performed, thus guaranteeing health and safety standards in its usage.
The beauty of digitalising any experience is the ability to draw data and generate information based on this data. This is exactly what the smart mirrors allow the store to do. Through this device, the store can obtain useful information about the interests and buying behaviour of customers as well as the effectiveness of sales staff and can strategically optimise business decisions.