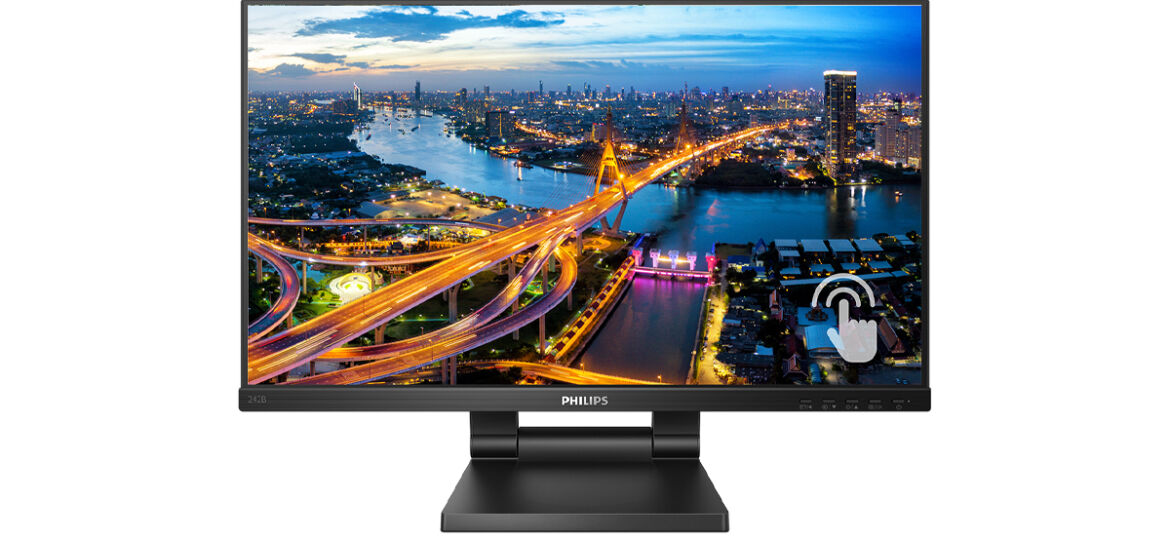 Philips' monitors provide for a comfortable, fast and responsive touch experience, ready to boost productivity. However, there are some scenarios that require highly specific, durable and even more versatile touch monitors: points of information, kiosks and in-store applications. For such purposes, Philips' monitors have launched their new open-frame touch monitors (B1TFL Series) – interactive displays designed for installation in places accessed by the public.
The new B1TC Series includes two models: the 23.8in (60.5cm) 242B1TC and the 21.5in (54.6cm) 222B1TC. They rely on Advanced In-Cell Touch (AIT) technology and projected capacitive touch, which ensures better transmittance and outstanding response rates, for a faster touch experience on up to 10 points simultaneously. The in-cell touch technology allows a slim, 3-side frameless design, while the IPS technology ensures wide viewing angles. The display features an anti-glare coating, which, combined with the full HD resolution, offers great images. Its 3H resistance protects it against scratches. The natural, fluid and fast touch responsiveness meet the needs of any home, office or educational application, thanks to the plug and play compatibility with Windows 10 and different Android and Linux versions.
The new B1TFL series comprises four models: the 23.8in (60.5cm) 242B1TFL, the 21.5in (54.6cm) 222B1TFL, the 17in (43.2 cm) 172B1TFL and the 15in (38.1cm) 152B1TFL. All feature projected capacitive (P-Cap) touch technology for fluid responsiveness that can easily detect 10 fingertips at once. This technology also works with gloves, making it exceptionally versatile and suited for public places. Another specific feature is edge-to-edge overlay glass with 7H scratch resistance, essential for a safe and durable touch experience and easy cleaning or disinfection in both indoor and outdoor environments. The displays also feature extra brightness from 350nits (242B1TFL) to 450nits (152B1TFL) and anti-glare coating for comfortable use under bright lights or even sunlight. All four models are rated IP65 (front only) and feature side seal foam for protection against water and dust. These monitors are ready to run 24/7 at their best, so users can rely on their constant operation.
These touch monitors have cross-platform compatibility with various versions of Windows, Android and Linux. The B1TC Series sports VGA, HDMI and DisplayPort inputs, as well as three USB-A 3.1 connectors (one with fast charging, USB-BC 1.2). The B1TFL Series is equipped with VGA, DVI, HDMI and DisplayPort inputs, as well as a built-in USB hub (2x USB-A 3.1) to connect extra hardware and power devices.
The open-frame models can be used in landscape, portrait and face-up orientation. The mounting system allows both VESA options and an L-Brackets system, covering most installations, while a wired remote pad controls the OSD, ensuring it remains easily accessible once the monitor has been installed.
Advanced in-cell models are designed to meet different standards and present a 3-sides frameless and slim design with SmartStand, a Z-design dual-hinge stand that adapts to customers' needs. VESA mounting is also available.
Certifications play an important role in choosing the right monitor, specifically for open spaces: they ensure the needed level of quality or protection specific to these applications, which are often characterised by frequent and sometimes rough use. The B1TFL Series features fundamental certifications in terms of safety and electronic hazards, and are certified EMI Class B.
The B1TC Series also offers LowBlue Mode, Flicker-Free technology and EasyRead for a comfortable viewing experience. In addition, it is fully certified by ES, TCO, EPEAT, TÜV and TÜV Eye Comfort – for a safe and top-notch experience and productivity.