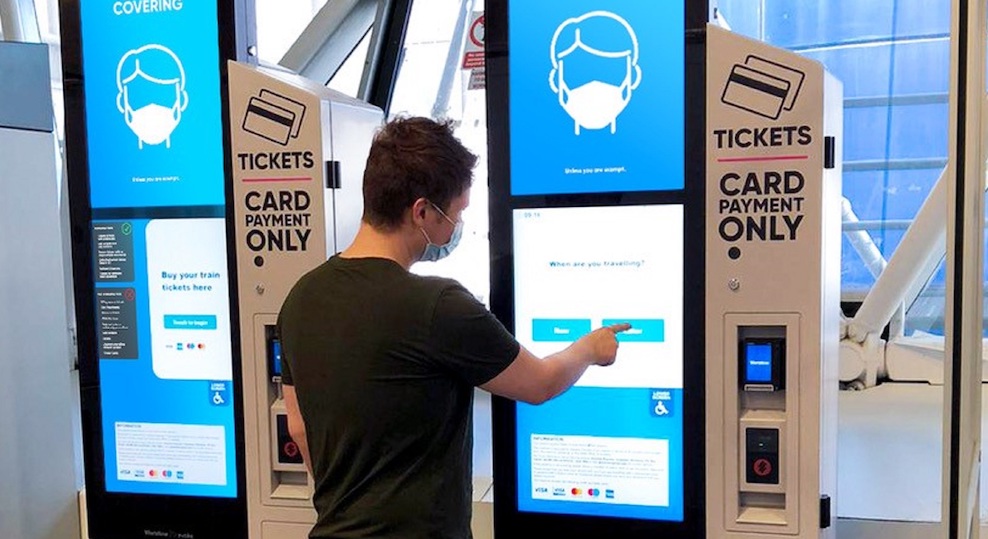 Zytronic has supplied Evoke Creative and Worldline with an interactive touchscreen for new ticket vending machines (TVMs). Initially installed and trialled by Govia Thameslink Railway (GTR) at Gatwick Airport, the kiosks are now being rolled out to other stations across the UK's rail network.
As one of the UK's busiest rail operators, GTR was looking for a TVM design with a large, full-screen interface. Improved ticket purchasing was a key requirement, facilitating a more rapid passage for travellers. Combining Worldline's expertise in payment solutions with Evoke Creative's know-how in kiosk design, the new TVMs support the ambitions of The Williams-Schapps Plan for Rail strategy to improve the ticket purchasing experience for rail users. The large, easy-to-clean surface is made from a single piece of elongated glass measuring 80in (diagonal), which protects the TVM's two large displays and gives the kiosk a sleek appearance. The top screen is for travel information and other targeted content; the bottom is touch active for selecting and buying tickets.
Zytronic and their UK partner, Display Technology, were selected because of Zytronic's ability to customise the projected capacitive touch sensors to meet the client's exact requirements and specification together with its renowned reliability. The company's willingness to produce low volumes for initial product development was another important factor in the decision. In addition, the fact that Evoke were already very happy with the performance of Zytronic's touch technology in existing unattended ticketing kiosk applications clinched the deal.
As these TVMs are mainly unsupervised, their elongated surface is made from 6mm thick, thermally toughened glass, which delivers optimum vandal resistance. The glass was custom machined and printed at Zytronic's manufacturing facility in the UK. It has two viewable areas with only the lower screen touch interactive, utilising Zytronic's ZyBrid touch technology and patented ZXY500 multi-touch controller. Similar to a smartphone's touchscreen, the interactive area of the TVM provides a millisecond-fast, accurate touch response, enabling users to interact easily with the ticket-purchasing software – even when wearing gloves.
"These new self-service ticket vending machines are a demonstration of GTRs commitment to enhance the rail customer experience," said David Gornall, Commercial Director, GTR. "The screen customer experience and purchase flow, aligned more with a web experience, is a positive step forward in rail retail innovation."