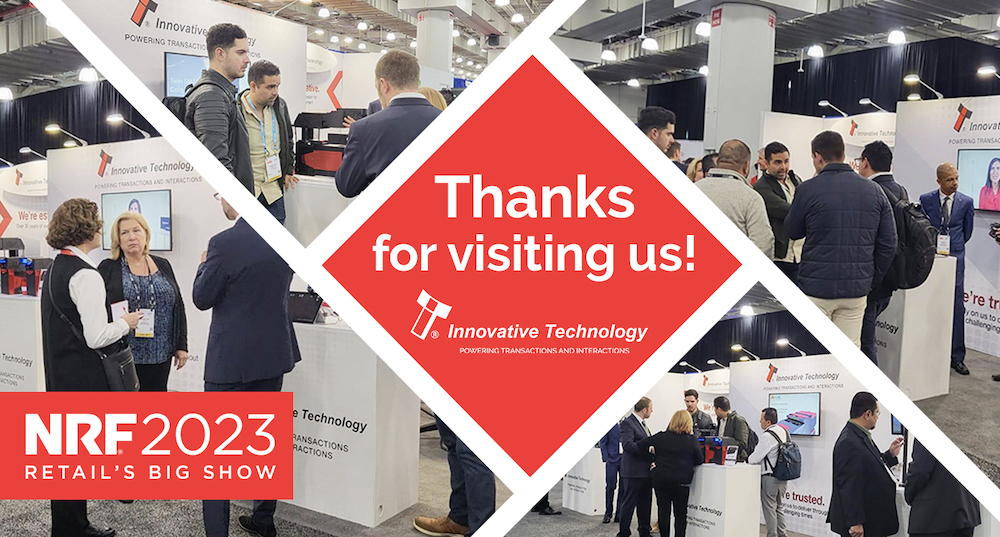 Innovative Technology Americas reported a successful visit to NRF 2023 – Retail's Big Show organised by the National Retail Federation at the Javits Convention Center in New York.
Commenting on their participation, Rebecca White, VP Sales & Business Development for Innovative Technology's US operations said, "We kicked off our retail show calendar for 2023 with a successful NRF exhibition. It was great to see a return to normal attendee levels, like pre-pandemic times, with high-quality retail visitors."
White continued, "Our new NV4000 Spectral was undoubtedly the star of the show. We designed this high-performance, large-volume, mixed-bill recycler specifically for the retailer to accelerate customer throughput. This is the most technically advanced but cost-effective bill recycler in its class. With a large cashbox and recycling capacity of up to 420 bills, this solution ensures fewer refills to increase staff efficiency. Also popular at the booth was the Twin SMART Coin System (SCS), our high-volume, multi-denomination coin recycler. Using this alongside the NV4000 Spectral, we can now offer the retail industry a long-awaited, affordable solution for high-volume applications for both bills and coins and NRF visitors were really impressed!"
Innovative Technology Americas had their range of biometric solutions for facial age estimation and access control on their booth for visitors to demo.
White added, "Interest in biometric technology is growing so we wanted to show how international retailers at NRF could benefit from our solutions. With self-serve kiosks on the rise globally not only will our cost-effective payment solutions gain momentum, but automated age checks may also play a part and the team reported some positive conversations with potential partners to explore. Some retailers were also keen to hear how our biometrics solutions could potentially assist with data collection in terms of demographics and how this can be used to improve the customer journey and experience."
Concluding, White said, "The US is a significant market for us and represents a huge area of growth especially in the retail sector. We have recently opened a new sales and support office in Atlanta to serve a wider range of customers and have also rebooked NRF for next year, proving our commitment to continued expansion in the region."