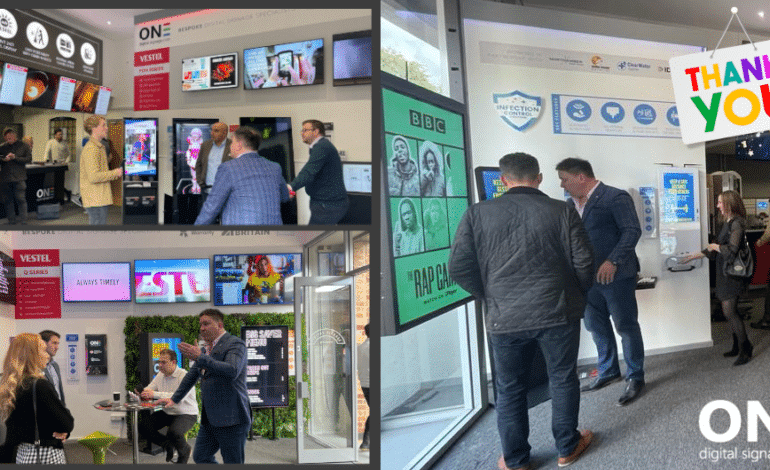 Following the relaxations of Covid restrictions, One Digital Signage was proud to welcome industry partners back to its West Midlands HQ where it can now showcase its latest product ranges in a purpose-built facility.
The Cradley Heath based digital signage specialist opened the doors to its new showroom with a series of open days held during late May for partners and resellers from across the AV industry.
The new space represents the first Vestel B2B partner showroom in the UK and kicking off its week-long grand opening was a key partner day, allowing the One Digital Signage team to welcome some of the organisations and people they work closely with to deliver projects and drive business growth.
Those partners in attendance included Vestel UK, B-Tech AV Mounts, Esprit Digital, Route Media, IDS Media UK, Audio Visual Material Limited, Northamber AV, Westcoast Limited, ClearWater Hygiene, Soul AV, Theta-Tech, Numed and ADI. There was also huge interest among a number of One Digital Signage's key resellers who attended to find out more about this unique sales space that they can now take advantage of.
Guests were able to meet the One Digital Signage team face to face (a novel experience after the days of lockdown) and get a detailed look at the 2021 product ranges, many of which incorporate their own technologies and componentry to deliver market-leading digital signage solutions.
The new showroom represents One Digital Signage's commitment to maintaining the business momentum gained during the previous 12 months – a year that saw adaptation and growth delivered through new product innovations and key partnerships, all to the challenging backdrop of the Covid pandemic.
Richard Westhead, One Digital Signage's Managing Director, commented, "2020 was a landmark year for us for so many reasons, although not one without obvious challenges, and now 2021 is seeing us press on with our growth plans.
"The long winter lockdown was particularly tough, but we used the time to throw ourselves at the showroom project. The team has been incredible throughout and their hard work now provides solid foundations to build on as we look towards even more successful days to come."
Sales Director at One Digital Signage, Nathan Murphy, added: "We are dedicating this showroom to our reseller network, who will be free to use the space for meetings and demonstrations. By offering this we can support them in allowing their clients to see our unique products up close and in action."