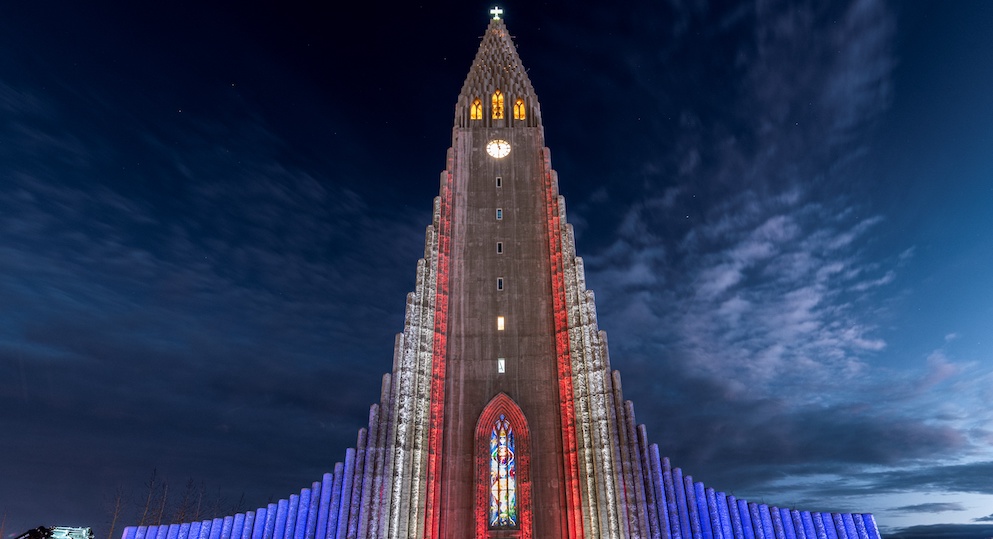 Hallgrímskirkja is a world-famous landmark in Iceland's capital, Reykjavik. Visible from almost anywhere in the city due to its 73m-high tower, the cathedral is instantly recognisable by its striking facade of descending pillars. As well as being a place of worship, Hallgrímskirkja also hosts cultural events and is a popular tourist destination.
A project was undertaken to redesign and improve the cathedral's outdated and inadequate external lighting which had reached the end of its useful lifetime. Only the front of the building was lit and had limited functionality, meaning a new, state-of-the-art, flexible lighting system was required with dynamic controls and smart features. LISKA were appointed as the lighting designers to deliver the scheme, with a brief to ensure the new LED fixtures were as unobtrusive as possible, and interventions to the building's structure were minimal. This was delivered through a number of partnerships, including the selection of Pharos Architectural Controls to realise the lighting control requirements.
Pharos provided several solutions from its portfolio; specifically, two Pharos Designer LPC 2s (Lighting Playback Controller 2), and one Pharos Designer TPS (Touch Panel Station).

The Designer LPC is an all-in-one control solution, ideal for architectural LED lighting installations such as Hallgrímskirkja. As a rugged, compact unit it requires minimal power, allowing it to be installed almost anywhere. The LPC is designed for 24/7 operation for complete reliability, and features individually controllable and independently running timelines and scenes that allow users to fully customise and pre-programme lighting effects that can be both sensitive and traditional, in tuneable whites, as well as dynamic colours.
The screen has a customisable 4.3in capacitive touch panel that works with any Pharos Designer Controller. Together, the LPCs and TPS enable automatic scheduled lighting scenes, dimming profiles and on-site manual control of the exterior lighting.
The exterior lighting grazes the facade, roof and tower with colour, including options to use colder tones to offset the warm lighting of the interior and clock tower. Carefully planned placement of the light fixtures with considered positioning has enhanced the three-dimensional surface and added contrast to the beautifully flowing texture of the facade. In addition, the luminaires are strategically located so they do not visually disrupt the architecture and surrounding public spaces. Their placement avoids any risk of glare to passers-by.
As well as providing light for general purposes, the external lighting is programmed to celebrate religious, national and international calendar events. This is achieved through both static and dynamic lighting scenes. While these special scenes are programmed in advance to align with these calendar dates, the lighting can also be controlled directly using the Pharos Designer TPS. The introduction of RGBW lighting has enhanced this, ensuring more visually pleasing effects that embrace colour, deliver an air of excitement and give a new lease of life to the public space around the structure. 
Mark de Gruyter, regional manager for EMEA at Pharos Architectural Controls, said: "Hallgrímskirkja is a beautiful structure that can be spotted from almost anywhere in Reykjavik. With an outdated lighting system, it was long overdue for an improvement that could deliver a whole range of benefits. The dynamic lighting effects and level of control now possible through the use of Pharos technology will ensure that this stunning cathedral continues to be admired for many more years to come."
Örn Erlendsson, LISKA lighting designer, added: "Hallgrímskirkja is known across the world for its striking façade and picturesque architecture. To create a lighting scheme for such an iconic place of worship is an honour. As lighting designers, we wanted to enhance its existing beauty while also offering more, such as the ability to illuminate in colour and with a dynamic approach to support key events. Every time we see Hallgrímskirkja we will feel incredibly proud.
To aid sustainability, an automatic lighting cycle adjusts to the Nordic winter darkness, while saving energy through the brighter periods by applying dimming profiles. All exterior lights are then turned off during the night to reduce light pollution.
Overall, the new scheme has delivered huge advantages to Hallgrímskirkja, improving aesthetics, flexibility and control, along with sustainability.