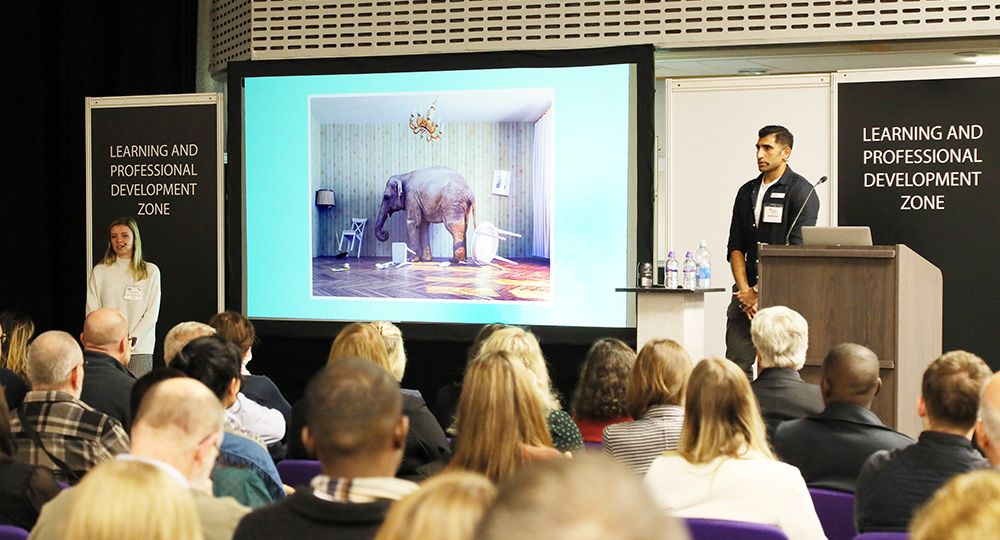 The countdown has begun to the UK's leading show for portfolio, programme and project management professionals, Project Challenge, which opens its doors again on 27 April 2023.
The twice-yearly show, which takes place at the QEII Centre in Westminster, London, attracts exhibitors from across the project management domain.
The event is a one-stop shop for developments in portfolio, programme and project management and is attended by training organisations and educators, software and tool providers, careers and recruitment specialists and professional associations.
The show, which is free for delegates, features presentations, masterclasses and seminars covering every aspect of portfolio, programme and project management as well as PMO and change management.
The show features:
Three free conference streams – masterclasses, case studies, learning and development

18 expert speakers

Find new tools, techniques, solutions and services from leading brands

Network with your peers and thought leaders
This FREE one-day event is intensive and compact, and is designed to make the most of your time invested!


Speakers this year include Mohamad Tannir, project manager and product owner at Counterpart, Gero Renker, founder of Program Framework and Helen Winter, management consultant and CEO at Business Bullet. Exhibitors include iCoTech Services, CITI and software vendor Planisware.
Event director Greg Ward, says, "Project Challenge provides an unparalleled opportunity to learn from leading industry experts and get up close to the latest tools, solutions and service. The event will give delegates the chance to enhance their project, programme, portfolio management and PMO knowledge across a wide area of implementations and network with an array of business leaders from around the UK."
Here's the full lineup at this year's event:
Tony Martin
Managing Director UK at Comaea
Tony Martin has more than 25 years' experience in the competency development arena, and has delivered large-scale upskilling programmes across the world. With employee upskilling on the agenda of every organisation, Tony will talk about how some of the largest and smallest organisations are using a structured skills approach to effectively match project manager competence to project risk, through a licence to manage approach.
Ranjit Sidhu
Founder at ChangeQuest
Ranjit is a chartered management consultant with extensive experience spanning Europe, the Middle East and Africa. As founder and director of ChangeQuest, Ranjit works closely with clients to support them in embedding best-practice change and project management approaches that enable efficient delivery and lasting transformational change. In this session Ranjit will explore tips for effective communication in project management.
Stuart Easton
CEO and co-founder at TransparentChoice
As the CEO and co-founder of TransparentChoice, Stuart Easton is a speaker and blogger on all things project prioritisation and portfolio governance. He is a guest lecturer at the University of Oxford and USC. He helps PMOs deliver strategic value and improve project success rates through his masterclasses. In this session Stuart will explore the relationship between execs and PMOs and suggest strategies for effective negotiation.
John Edmonds
Senior Architect PPM in Product Management at PeopleCert
PeopleCert's Senior PPM Architect, John, has extensive and varied experience in change, programme and project management. This session explores a principle-centred approach to project management: the seven principles of PRINCE2 and how the method can be applied to any project, regardless of purpose, scale, type, organisation, geography or culture.
Mohamad Tannir
Project Manager and Product Owner at Counterpart
Coming from a civil engineering background, Tan joined Counterpart in 2019. He discusses the Four T's (Time, Task, Team, Transition), to complexity and uncertainty, and the key factors to take into consideration in ensuring the successful delivery and outcomes of such projects.
Gero Renker
Founder of Program Framework
Gero is a co-founder of Program Framework, which transforms project organisations with the help of Microsoft Cloud solutions for Project and Portfolio management. Gero will cover the dos and don'ts of successful Project Portfolio Management tool implementation, sharing Program Framework's experience in delivering PPM solutions for organisations across all sectors.
Veijo Hytti
CEO at Keto Software
Veijo is a visionary leader and has been part of the Keto Software story since 2015, steering the company towards growth and internationalisation. In this presentation, Veijo explains how and why organisations are now moving out of old outdated legacy tools and into modern no-code platforms.
Greg Bailey
Vice President Resource Management at ProSymmetry
As Vice President Resource Management at ProSymmetry, Greg works with corporate customers, implementing enterprise resource planning, skills management, project portfolio, resource portfolio management, software and strategies. This session reviews how the SMART™ planning cycle can optimise value delivery flow, adaptability, and talent retention for any portfolio of work.
Helen Winter
Management Consultant and CEO at Business Bullet
Helen Winter is a management consultant and CEO of Business Bullet with a mission to help organisations implement large complex change. This presentation will cover factors that influence a target operating model and the techniques that companies can adopt to keep up with the pace of change.
Elizabeth Harrin
Director at Rebel's Guide to PM
Elizabeth Harrin provides training and mentorship to PMs through her website, A Girl's Guide to Project Management. With more than 20 years' experience managing IT and business change projects, Elizabeth will share how to control your to do list, spend less time juggling and more time moving your projects forward.
Date: 27 April 2023
Time: 9:00 – 17:00
Venue: QEII Centre, Westminster, London, SW1P 3EE
For more information about the event, please contact Marcus Kingsland on marcus.kingsland@project-challenge.com