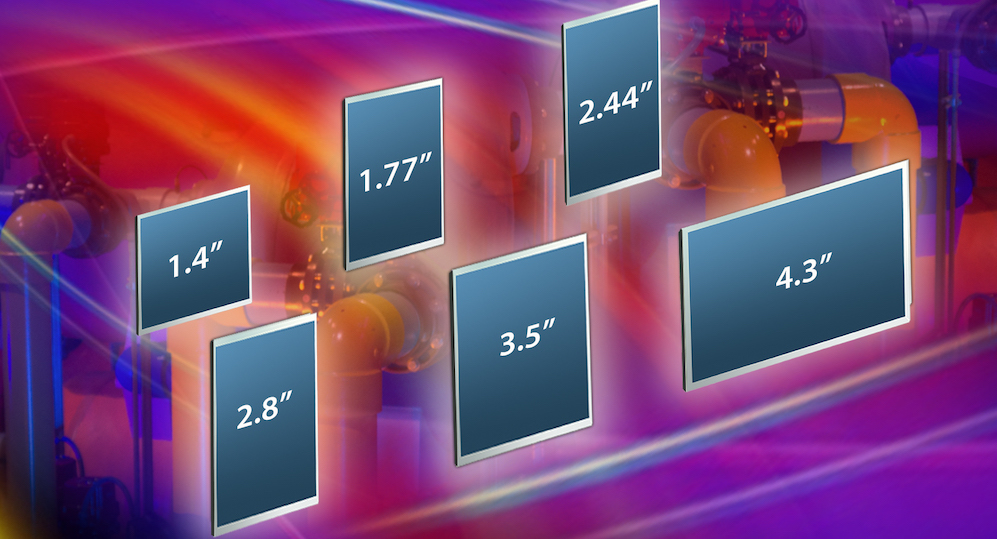 Review Display Systems (RDS) has announced the introduction of a new range of high-performance, small-size TFT display modules.
Available in a wide range of sizes and resolutions including 1.4in (240 x 240px), 1.77in (128 x 160 px), 2.4in QVGA (240 x 320 px), 2.8in QVGA (240 x 320 px), 3.5in HVGA (320 x 480 px), and 4.3in WQVGA (480 x 272 px). The full line-up of TFT displays offer excellent optical performance and feature IPS (in-plane switching) technology, which ensures highly consistent image reproduction and colour saturation from all viewing angles (up/down, left/right). Contrast ratios are specified from 500:1 to 800:1.
High brightness, white LED backlights are used throughout, providing brightness specifications ranging from 500cd/sqm up to 1000cd/sqm, which ensure display images are sunlight readable in high ambient light or outdoor environments.
Justin Coleman, Display Business Manager, RDS said, "The new range of high-performance, small-size TFT modules produce bright, colourful display images, and will enable RDS to support a diverse range of portable and static applications including in-vehicle devices such as dashcams, domestic monitoring and metering equipment, and e-mobility systems to name but a few. Additionally, we can offer semi-custom display options to meet user specific requirements."
A range of display data interfaces including SPI (Serial Peripheral Interface), 8-bit and 16-bit MCU, and 18-bit and 24-bit RGB are available. A wide operating temperature range of -30°C to +80°C ensures the display modules will operate reliably and dependably in extreme temperature environments.
Projected capacitive and resistive touch panel options are supported to enable the implementation of on-screen graphical user interfaces. Review Display Systems can also offer user-defined display customisation to meet application specific display requirements.
To support the promotion and marketing of the new range of TFT display modules, RDS can provide display demonstrations, sample displays available from UK stock, and full design-in support for a wide range of display-driving embedded hardware solutions.