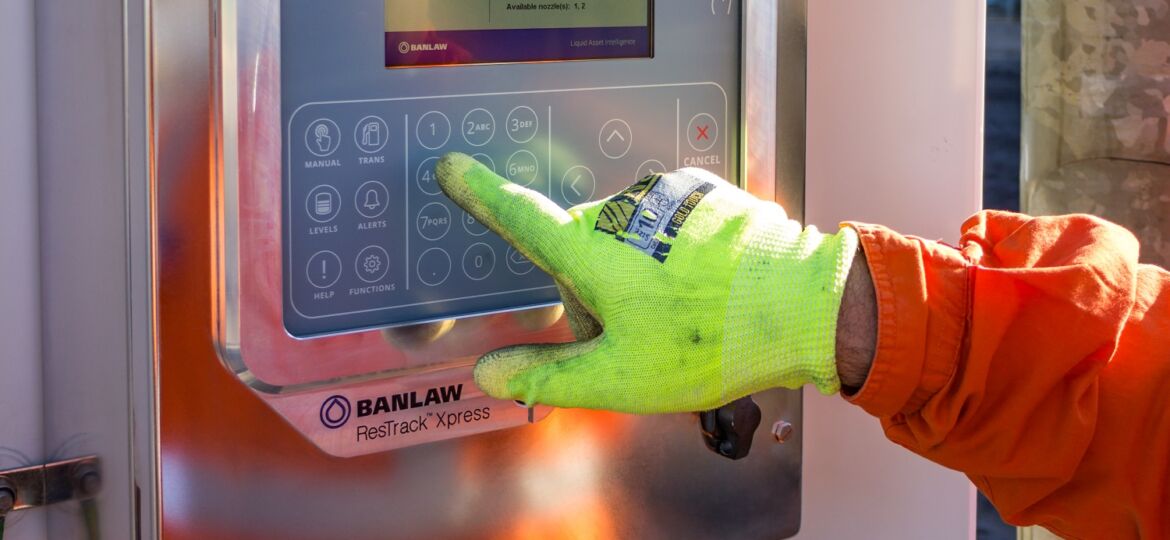 When developing a new field controller for its fuel management system, Banlaw, supplier for off-road liquid transfer, measurement and control solutions, wanted a user interface that could thrive in harsh industrial work environments anywhere in the world, such as remote mines and quarries. The developers also wanted a touchscreen that would work with gloved hands, provide reliable, year-round, low maintenance operation, and be readable in both direct sunlight and the middle of the night. As a result, they chose a high-brightness industrial-grade display fitted with a rugged, custom-designed Zytronic ZyBrid touch sensor and a bespoke serial touch controller.
The Banlaw Xpress Field Controller is the central component in a complete fuel management system and is built to withstand harsh operating environments, provide ease of use and deliver secure fuel inventory monitoring and control. The compact unit manages user and equipment identification, pump control, ball-valve control and flow metering for up to four refuelling nozzles. It also provides precise, real-time tank gauging for four fuel tanks.
Banlaw wished to collaboratively develop a fluid asset management product to satisfy customer needs. Sebastian Hoppe, Engineering & Development Manager, Banlaw, said, "Component pricing and the expected longevity were important when deployed on industrial worksites. However, a supplier with the subject matter expertise to help us achieve better together was more important, which is why we chose to work with JEA Technologies and Zytronic."
Working closely with JEA, Zytronic designed a bespoke, printed glass 7in ZyBrid projected capacitive touch sensor incorporating UV and IR filters to aid system thermal management and protect the underlying display from damaging exposure to sunlight. A 6mm thick, thermally toughened antiglare etched glass was chosen, ensuring optimum impact resistance and reducing sunlight reflection in the frequently scorching weather experienced by Banlaw's customers in Australia, Africa, the Americas and beyond.
In addition to the dynamically changeable touchscreen, a fixed keypad was also required to allow frequently used information such as driver secure PIN codes, truck mileage or odometer readings to be quickly entered into the Banlaw Xpress Controller. Consequently, working closely with JEA and Banlaw's engineers, Zytronic designed the rugged touchscreen from a larger piece of glass and then printed the required viewable area together with 'hard coded' capacitive keys and an RFID reading point beneath a 10.2in touch active zone. In addition, Zytronic modified its standard ZXY100 serial controller to incorporate both dynamic touch and fixed keys managed through the same device. The overall benefit was to reduce the complexity of integrating multiple components and the size of the high brightness industrial-grade display required, and therefore overall system cost.
"This combination and integration of a projected capacitive keypad together with a touchscreen in a single user interface really helped our product development process," adds Hoppe. "Furthermore, liaising with JEA Technology and Zytronic throughout was excellent. Both organisations added their specialist expertise, yielding fast responses and collaborative solutions for creating this new Xpress fluid asset control technology."
Utilising Zytronic's complete in-house "ownership" of touch control electronics coupled with its ability to quickly design and manufacture highly customised touchscreen designs, even in low quantities, Banlaw and its technology partners have already completed the first 20 Xpress deployments. These implementations have predominantly been for mines and quarries, and the company expects to build around 170 in the coming year. The Xpress Controller also meets the needs of many agriculture, road transport, rail, construction, and liquid food production operations. The affordability of Banlaw's new Xpress solution is expected to drive uptake by these other industries that historically have struggled to invest in enterprise-class fluid asset management processes.
"I wish all my suppliers were as forthcoming and collaborative as JEA Technologies and Zytronic," concludes Hoppe.