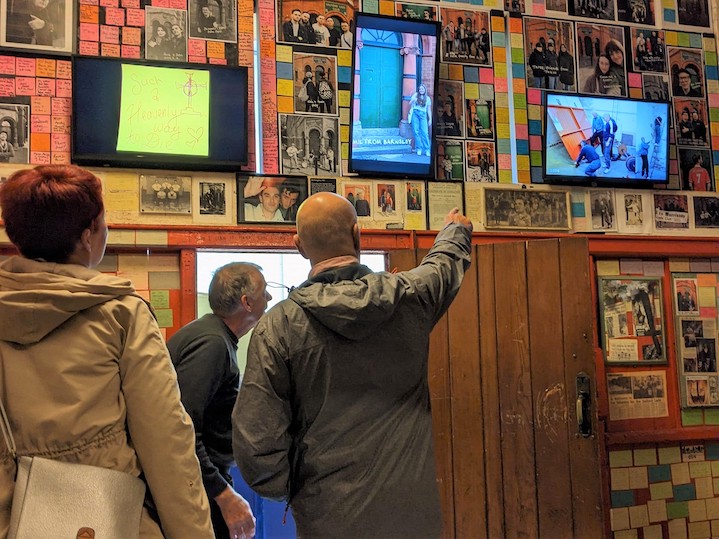 https://saturnvisual.com
Salford Lads Club, the historic recreation club and charity made famous by alternative rock band, The Smiths, has taken its huge collection of fan messages and photos into the digital age, with a little help from digital signage consultancy Saturn Visual Solutions.
The club has amassed a huge collection of messages, photos and memorabilia from fans of the band visiting the site and has turned it into a major tourist attraction. However, the Smiths Room, which is used to house the collection, ran out of display space in 2018.
Subsequently, Saturn has helped the club to add digital displays to the room so that more messages and photos can now be displayed.
Leslie Holmes, project manager, Salford Lads Club said: "Salford Lads Club is a place like no other. First and foremost, it's a place to help young people. Secondly, it's a historically significant building and is the best example in existence of a pre-WW1 boys' club. And last, but not least, it's a mecca for fans of The Smiths' music.
A lot of the club's income is raised by music fans visiting us and buying merchandise, so we need to keep our collection of fan photos and messages up to date to remain current. We asked Saturn to help us sensitively modernise the Smiths Room, making it a fun and interesting place to visit, but without losing what makes it so very special. Saturn gave us some great suggestions that were within our budget. They were also kind enough to donate time and services free of charge, which has helped us keep our costs down. We are all really pleased with how the result looks and what it will now enable us to do."
The new displays have had great feedback from Smiths fans, with many now wanting to visit the club so they can get their picture taken outside the famous sign and have it added to the Salford Lads Club's collection.
Chris Welsh, Saturn Visual Solutions MD, said: "Despite being a band from the 80's, The Smiths' songs are streamed by over 12 million listeners every month. That fan-base presents a huge opportunity for the club, which is practically on our doorstep and does fantastic charitable work helping disadvantaged young people to have brighter futures. So, we decided that we would help them as much as we could by providing some hardware and services free of charge.
"It was important to strike the right balance between creating enough display space for the club's massive and growing collection but not changing the look and feel of the Smiths Room. So, we advised on three small and inexpensive displays that wouldn't overpower the room they were in and would create enough additional display space for the club's needs.
"We're thrilled that the feedback from fans has been so positive, and that the Salford Lads Club is attracting previous and new visitors wanting to be a part of the collection, which should help the club's fundraising efforts." 
This year both organisations celebrate significant milestones. Salford Lads Club celebrates its 120th anniversary, and Saturn Visual Solutions celebrates its 25th, having been established in 1998.