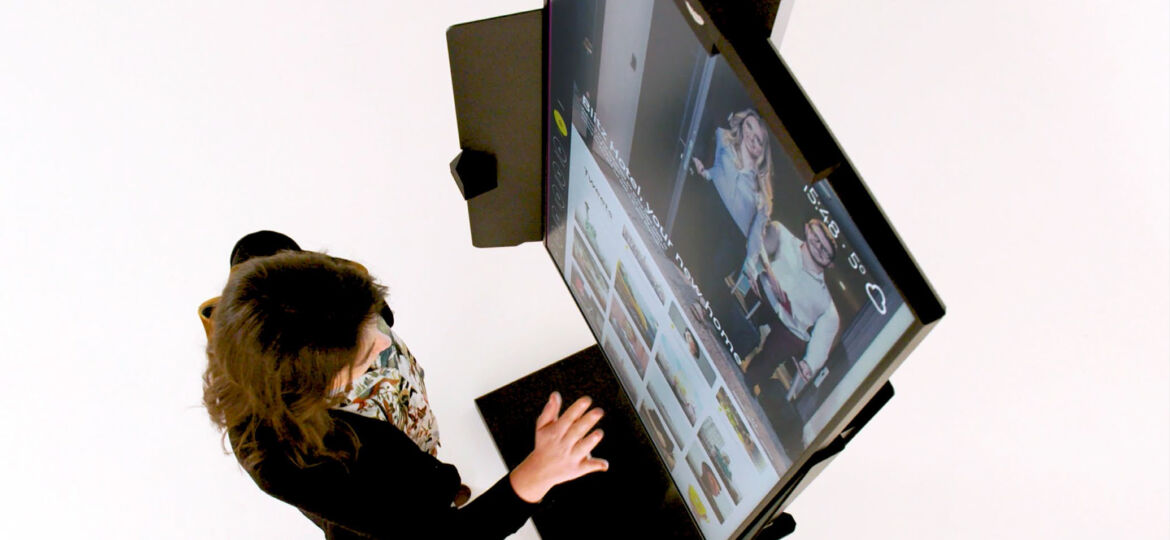 The new AIRxTOUCH KIOSK SERIES 2 is a touchless interactive kiosk solution that offers the same experience as a touch device except for the fact that the user doesn't have to touch the screen to use it. He only has to move a few centimetres from the display to navigate precisely through the various menus.
This solution offers a clear advantage from a sanitary point of view. To design this solution, iNUI Studio combined a Samsung 55in 4K screen – the QH55 – in a metal stand with AIR TOUCH optical sensors and a powerful processor.
The SERIES 2 is robust, more compact and 82% faster than the previous generation. Due to its nature and the uses it allows, the AIRxTOUCH KIOSK SERIES 2 is particularly suitable for hotels, fast-food restaurants (QSR), transportation and any space welcoming the public.
Based on powerful proprietary image processing algorithms, the patented AIR TOUCH technology delivers exceptional mid-air interaction (5cm from the screen) and the most complete user experience available on the market. Allowing click, double-click, drag and drop, slide, zoom interactions – with a precision of 3mm – AIR TOUCH is as easy to use as a conventional touch device.
The solution integrates a 55in Samsung QH55R display. Thanks to the Dynamic Crystal Color technology, the image quality is optimal, with a billion shades of colour, contrast ratio, high brightness and anti-reflection treatment that ensure good readability even in high light conditions. Immersion is further enhanced by HDR10+ compatibility and UHD (4K) resolution enabling professionals to bring all their commercial content to life, 24 hours a day, 7 days a week.