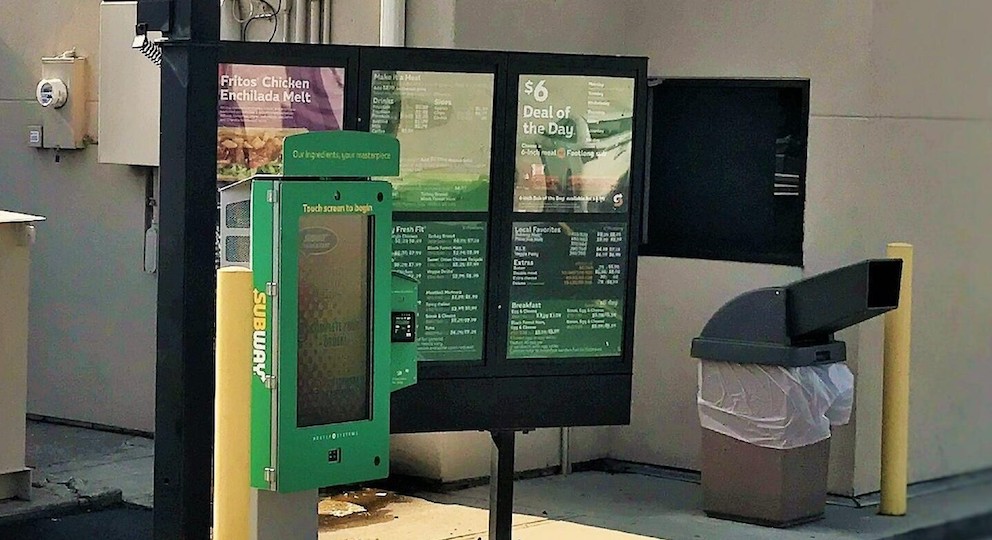 In-store self-service kiosks are now a familiar sight within quick-service restaurants (QSRs) – they allow us to navigate through menus, view available offers, select from a wide range of options, and finally order and pay for our food without queueing. However, at drive-thru QSRs, which can account for up to 75% of a restaurant chain's revenue, there typically isn't the same level of rapid, personalised, interactive information available. Spotting a gap in this market, Olea Kiosks created a new range of outdoor interactive kiosks – but their challenge was to ensure the same levels of usability, durability and reliability as their indoor counterparts.
Looking for an outdoor touchscreen that could handle the additional challenges placed upon it, Andson Pong, CTO at Olea Kiosks, led the evaluation process. "Many touchscreen manufacturers place warranty restrictions on their products in outdoor applications, meaning that the kiosk is limited to certain environments or locations," he said. "We wanted a universal outdoor design with no such restrictions. In addition, when placed within a metal enclosure, we needed a large projected capacitive touchscreen that is unaffected by rain and would function even when the customer has gloved hands. Zytronic's award-winning touchscreens proved very capable in all these areas."
Zytronic has over 20 years of experience developing and manufacturing touch sensors for publicly used outdoor applications that are exposed to the elements and the associated risk of vandalism and abuse. Working closely with Olea Kiosks, Zytronic designed a custom 32in ZyBrid touch sensor combined with its proprietary ZXY100 controller. The touchscreen is made from 6mm thick, toughened glass to help withstand heavy impacts. With the addition of an IR-blocking filter laminated to the rear surface, the touch sensor also assists in the overall thermal management of the kiosk's display.
"With any technology, you always expect you will need some support, and that's extremely helpful for us because we can get new solutions up and running quickly without impacting the client," said Pong. "If we call Zytronic with an issue, support is extremely responsive, and issues are resolved quickly. Likewise, when we develop a new product or use new software, some initial adjustments usually require us to work with Zytronic's support team, and these get resolved very quickly too. Overall, Zytronic's product reliability and support are the keys to our long-term business partnership."