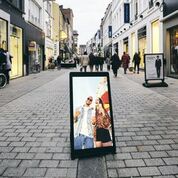 Wayo is now selling and renting their battery-powered, portable digital signboard.
The display board can be placed indoors or outdoors and can run for up to 17 hours on a single charge.
High definition images can be uploaded via a USB stick directly onto the display which is easily mobilised but lockable once in position. The Wayo does not have any trailing wires and so can safely be placed where customers are passing, ideal for showing Covid safety notices in addition to instructions and marketing information. The display can show multiple messages or video; multiple messages rotating in order and can repeat on a loop.
The Wayo sign is designed for temporary sites, in indoor or outdoor environments and is suited for operations in venues such as bars, restaurants, retail, outdoor shows, events and shopping centres.