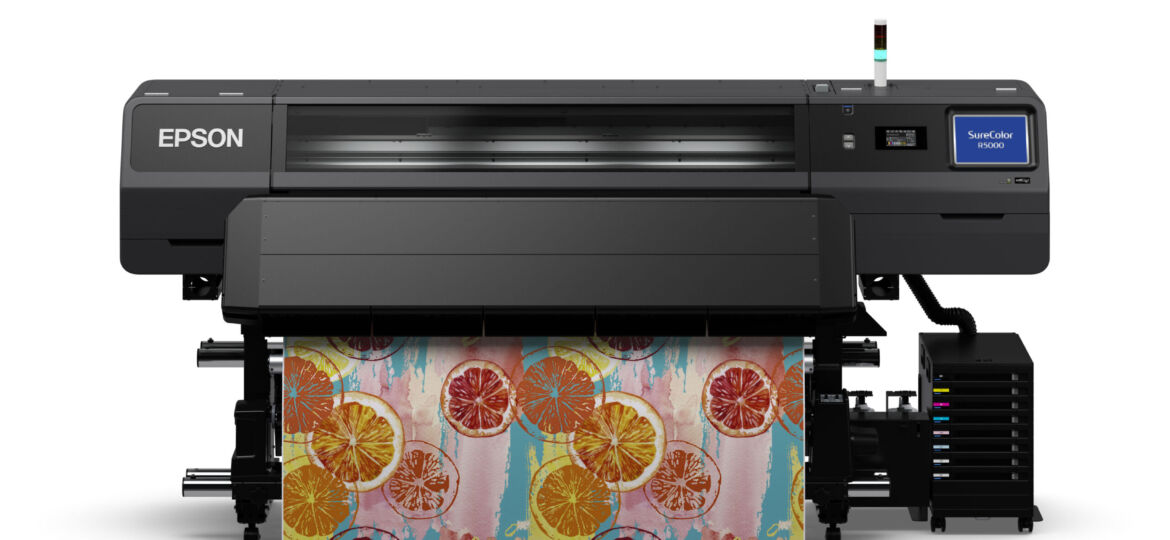 Verve Display's commitment to helping its clients achieve a more sustainable operation has been enhanced with its investment in an Epson SureColor SC-R5000 resin ink large format printer.
The SC-R5000 produces vibrant prints with a fully water-based ink set and can print onto uncoated media, creating recyclable output and minimising environmental impact. The extremely reliable system with a permanent printhead is very easy to operate and has low running costs.
Simon Perkes, Managing Director, founded the Harlow-based operation in 2003. It delivers innovative and bespoke solutions from concept to concourse in large format digital print. It works with a wide range of household names from Sky and Mastercard to Team GB, ITV and Great Ormond Street Hospital. As part of its journey to becoming Net Zero, Verve is committed to setting the standards in environmentally-conscious printing. In line with its investment into a greener future, Verve will be rebranding later this quarter.
Explained Perkes: "After years in wide format and large format print sales, I wanted to create a business that focused on service and not just price. From that, we grew into experiential and bespoke events. We are now exclusive partners for O2 and other AEG events. The key emphasis for that is timing. We have a day to rebrand. We were printing on a lot of PVC one day and then throwing it away the next. I wanted to find a way to be more sustainable. So, in 2019 we began looking at how we could minimise our operational impact and in turn support our clients as they look to meet their net-zero targets."
Perkes tasked Verve Display Production Director David Blackholly with researching the possibilities. Said Blackholly: "Before the pandemic started we began dipping our toes in the water and looking at systems and PVC free materials. We needed print production solutions that produce very high-quality work consistently and reliably. We have two Epson solvent systems – a SureColor SC-S80600 and a SureColor SC-S60600 with Greenguard certification so we know and trust Epson technology.
It is reliable and the quality is next level. We wanted to be sure we could maintain that print quality on PVC free alternatives. We did not want to take a step back. For us, the step forward was the water-based ink set where we know the quality is going to be maintained."
He continued: "With previous systems from other suppliers we have had an issue with the material stretching. With the SC-R5000 we can be sure that when we print two metres for a wall hanging, the drop next to it will be the same. Early signs show the quality is where we want it to be on PVC free substrates. This enables us to confidently print on a wider wide of recyclable materials – and some are very cost-effective. This will help us better support our clients looking for more sustainable options – especially hospitals."
Perkes added: "We are having an increasing number of conversations about how we can be more sustainable and help our customers achieve their goals. We also have to prove it and be more transparent. The SC-R5000 will help us do that. Its water-based ink enables recyclability and its reduced energy consumption in drying, compared to other systems, means it is not using tons of energy. It has a very robust build and delivers high quality printed results too. It is consistent and reliable. It ticks all our boxes. Now, when we are asked if we offer a sustainable solution, we can, hand on heart, say yes. The inks are completely sustainable, the four-stage curing system cures the ink to be used instantly, and is one of the most economical solutions to run."
The 64in SureColor SC-R5000 is Epson's first resin ink large format printer. It produces accurate, colour-consistent, and fast-drying prints on a wide variety of substrates with environmentally friendly, outstanding results.
The new R Series addresses the existing industry challenges of working with resin-based inks, and draws from Epson's years of innovation in imaging, colour management and substrate control, delivering an ideal solution. Its PrecisionCore Micro TFP printhead ensures excellent print performance and colour control. Its new 6-colour UltraChrome RS inkset is an odourless, water-based resin ink and is suitable for use in any environment such as schools, hospitals, hotels and indoor facilities.