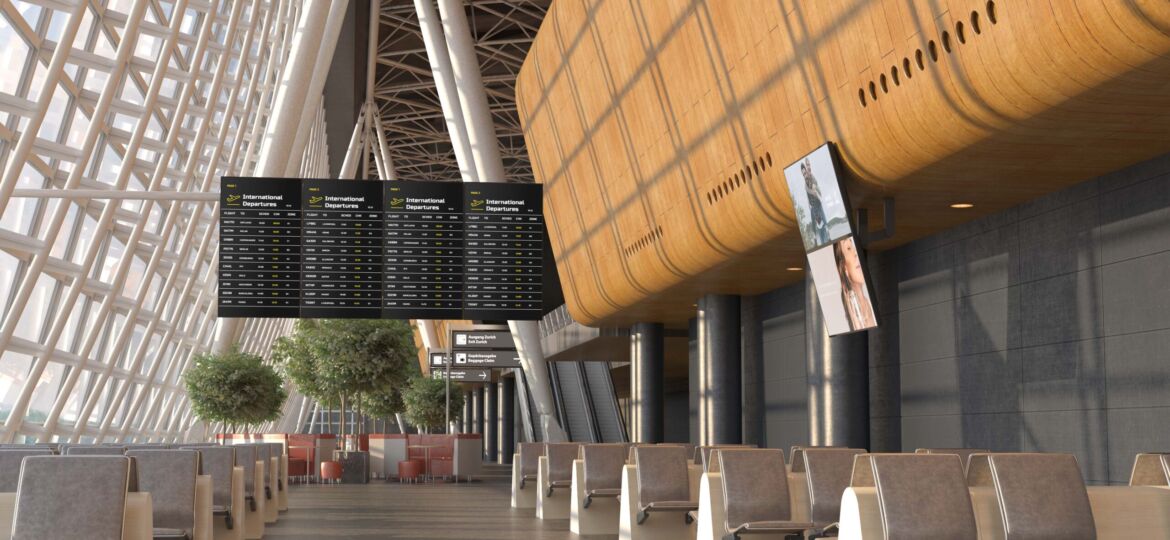 Vestel Visual Solutions has announced the expansion of its display range with the arrival of the new P Series. Featuring six new 24/7 models – available across 43in, 50in, 55in and 65in sizes in different brightness options – the P Series is built to provide a stylish solution for almost any installation location, delivering outstanding high-res picture quality within a slender D-LED design.
The P Series has been created to provide a combination of style and value. D-LED backlight technology combined with a specialised cabinet design provides a sleek screen with a slim depth of only 63mm. The screens can be mounted in either landscape or portrait orientations, making them suitable for almost any installation location. Further adaptability is provided via optional 30o tilting installation, enabling the displays to be viewed more easily when mounted in high locations – suitable for restaurant board menus or airline flight information. The screens also boast excellent picture quality, delivered through UHD resolution and 500 and 700 NIT brightness options. HDR10 compatibility guarantees all featured content meets HDR guidelines, guaranteeing superior picture quality and making them a vibrant and cost-effective solution for areas of high ambient lighting – whether that be within retail spaces, schools or corporate environments.
The P Series has a variety of additional options to suit the needs of end-users. Model options include either 16/7 or 24/7 operation hours, along with 500 NIT and 700 NIT screen brightness options. Additionally, the 55in and 65in screens are also available with touchscreen overlay kits. The overlays are easy to install and transform the P Series screens into interactive displays – suitable for meeting rooms, huddle spaces, self-service kiosks and way-finding solutions.
The P Series is built with the user in mind. The screens can accommodate either OPS or SDM modules without the need for additional power or video cables, and external devices such as PCs, Chromebox, and NUC players can be easily mounted. Furthermore, an embedded IR means that the screens can be aligned together without interference or unsightly gaps. The screens boast an auto-launch feature, which enables the easy display of content from USB media. Equally, built-in browser connectivity allows for a quick and easy connection to the internet, meaning businesses can automatically showcase content from their website or a predefined URL from the moment the display is turned on.
"We believe that the P Series provides our customers with a cost-effective high-quality AV solution whatever their needs. The scope for adaptability along with slim D-LED 24/7 displays and 500 NIT and 700 NIT brightness options, all at an affordable price point, means the range is built to capture audiences with colourful and vibrant content," said Karen Langford, Head of B2B, Vestel. "The addition of the P Series further expands our already comprehensive range of B2B displays. We're excited to bring further models to market in the coming months as we continue to innovate in order to meet the needs of our UK customers."