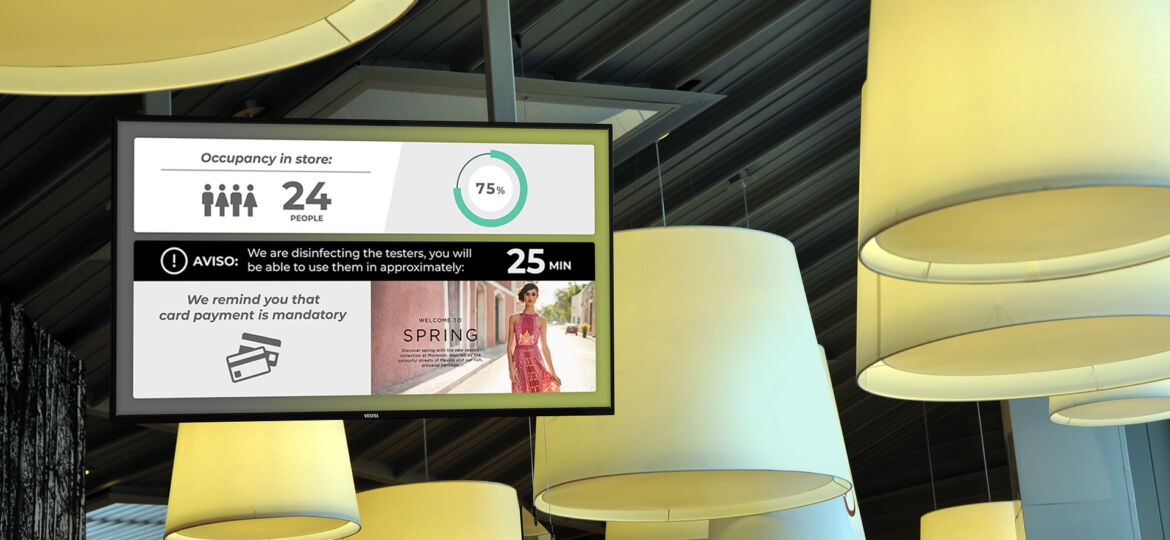 In a move that is set to build on its long-standing global partnership with Deneva software producer, ICON Multimedia, professional display manufacturer, Vestel Visual Solutions, has introduced a new Deneva and certified System-on-Chip technology solution. Allowing all the capabilities of the Deneva platform to be integrated into the entire Vestel line-up of 43in to 98in digital signage displays, the new solution offers an extra competitive advantage to integrators, widening the spectrum of opportunities for projects across a vast range of industry applications.
Offering the possibility of a seamless and cost-efficient turnkey digital signage solution with a world-renowned, scalable and user-friendly software, this embedded SoC technology ensures that considerable savings can be achieved for everything from small digital signage setups to special, bespoke projects, and time-sensitive, multinational rollouts. As well as eliminating the need for any middleware, it streamlines the deployment process, while also working to keep installation, operational and maintenance costs to a minimum.
As soon as it is connected to power and network, this out-of-the-box display solution ensures automated, centralised control of small, medium and enterprise level digital signage networks, enabling end users to develop network applications, as well as create and schedule multimedia content in any resolution for one, some or all of the displays. For more immersive showcases, much of the Vestel range of digital signage supports the display and playback of 4K UHD HDR content.
Building on the success of its tried and trusted partnership with Deneva in retail, corporate and QSR industries, Vestel Visual Solutions, with its new integrated Deneva solution, is now in a position to offer even greater built-in specialist and targeted support. Compatible with all the latest Deneva range of software applications, the solution ensures custom-built functionality for all sectors, ranging from retail, QSR, finance, supermarkets and hospitality, to corporate, education, transport, and healthcare.
The SoC-powered range of Vestel displays are now also approved for compatibility with the new Deneva Safe and Tech solution. This utilises AI, Big Data and biometric systems to ensure businesses can more easily comply with the latest Covid-19 regulations for maximum in-store capacities, mask wearing and social distancing.
Designed for portrait and landscape orientations, the flexible Vestel series can be adapted to suit any environment, coming with a range of display capabilities, which include continuous 16/7 and 24/7 run-times, as well as brightness levels of up to 2,500 Nits.
The SoC technology solution will be available for the entire Vestel digital signage line-up from 2021 onwards.