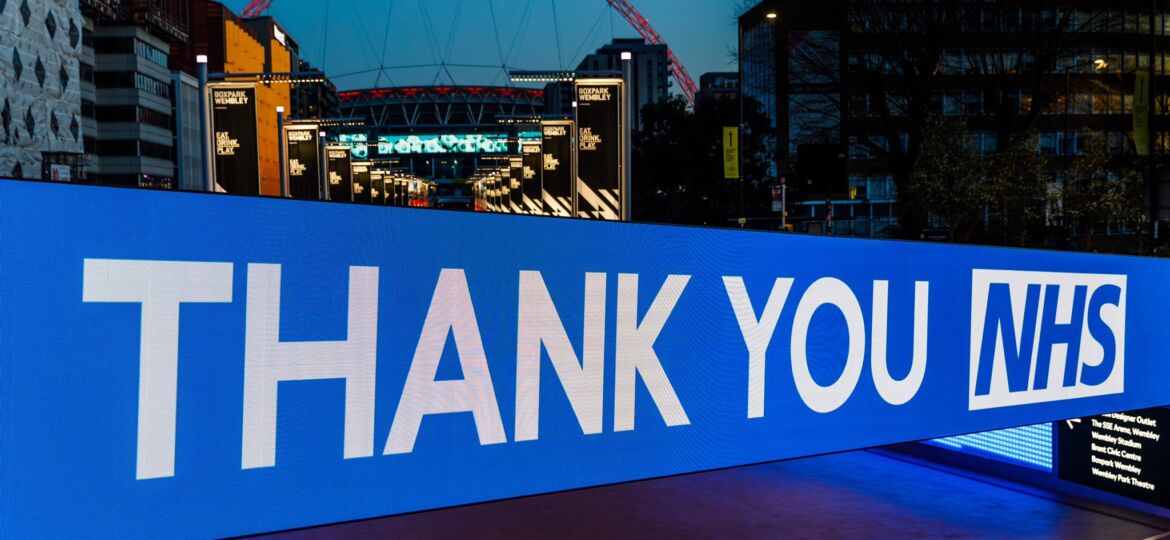 Situated in North-West London, Wembley Park is currently undergoing an extensive developmental operation designed to expand its reputation as a sporting and music event destination and transform it into a vibrant community in the UK. The 85-acre site neighbours the second largest sporting stadium in Europe, Wembley Stadium, and includes The SSE Arena, Wembley, 70 high street outlets, 8,400 new homes, and a 2000-seat theatre.
Quintain Ltd., the property development and investment company behind Wembley Park's redevelopment, chose Eclipse Digital Media for a variety of work as part of the digital transformation. The work commissioned included the LED digital signage renovation of the Bobby Moore Bridge, Olympic Way, and White Horse Square, plus a variety of digital signage for the Pink Car Park.
In total, Eclipse Digital Media implemented over 150sqm of Absen XD6 LED screens as part of the vast digital upgrade. With such a modern digital deployment, the LED screens have proven to attract the right attention in the last few months, not only for advertising or for managing the flow of persons, but also to raise awareness and understanding when the screens were used to pay tribute to the NHS staff and all front-line workers.
The Bobby Moore Bridge
Opened in 1993, the Bobby Moore Bridge was named after football legend Bobby Moore, and has been an iconic pedestrian entrance into Wembley Stadium, and Wembley Park, ever since. Walked by millions each year, it was designated a major area for redevelopment. The bridge has been upgraded from a piece of civil engineering to a modern digital experience which marks the beginning, or end, of a trip to Wembley.
Leading the transformation is London-based The Light Lab, responsible for the management, installation, and fabrication of the new digital makeover. Initial concept designs were created by architect Dixon Jones, with Speirs + Major designing the lighting for the underpass.
Working with The Light Lab and Dixon Jones, Eclipse Digital Media designed the LED signage, software, and installation for the two sides. Absen's XD6 LED screens were chosen by Eclipse Digital Media for this purpose.
"We chose Absen's XD6 due to its design, resolution and support offered," said Drew Harding, sales and marketing manager for Eclipse Digital Media. "In being created for outdoor installations, the Absen screen provides a great visual impact and is easily maintained, which are both critical factors for installations like this."
100sqm of Absen's XD6 was used at the southern and northern ends of the underpass, welcoming pedestrians with a stunning LED fixture worthy of being a major pathway to Wembley stadium. The ceiling of the underpass, with The Light Lab's embedded diagonal LEDs, is kept well-lit at all hours, for the late-night exits from the stadium. The walls now boast individually controlled multi-LED pixels, behind laminated, toughened glass, in order to provide a level of safety for those leaving after an event in or around the stadium. In order to preserve its history, a portion of the original mural has been saved, framed, and illuminated on the east side of the underpass.
The whole LED installation had to be completed within two weeks; a challenge that the teams rose to meet. "We met this deadline thanks to the hard work and collaboration of the teams involved," commented Harding. "We wanted to do this monumental bridge justice, and you could see on the faces of every member of our team that they were ready to make it happen – it's a feat that we were all successful in."
Absen's LED screens, due to their prominent position, perform as a revenue stream for advertisers, present messages to the local community, and showcase local artistic works for the millions passing under the bridge each year.
Olympic Way & White Horse Square
Olympic Way, more commonly known as Wembley Way, is the road running from Wembley Park underground station to Wembley Stadium itself. Every year, Olympic Way is walked by millions of excited spectators heading to Wembley Stadium, and required a digital upgrade to enliven the route.
Quintain chose Eclipse Digital Media for the digitalisation of this area, which came to the installation of several 5.6m-tall displays to give directional information and key messages to the general public. These displays were also placed at White Horse Square, which provides a pathway to visitors from Wembley Stadium train station to Wembley Park.
The totem structures – designed and installed by UK-based signage and brand graphic supplier, Astley signs – harbour 16sqm of Absen LED XD6, which wraps around the concrete plinths, covering almost half of each plinth in digital screens.
The content on the screens is controlled using multi-platform digital signage software embed signage, which also adjusts the brightness levels depending on the time of day.
The ability to sync the screens gives Wembley Park the option to create digital experiences combining all three digital displays in this area; a feature that was used for the NHS commendation.
The Pink Coach & Car Park
With a capacity of 16,500, this busy, bright pink car park required digital signage that could communicate to the drivers the parking regulations and ever-changing event information. For this role, Eclipse Digital Media chose a mix of Absen's XD6 and a number of IP65 high bright outdoor LCD displays.
10msqm of Absen's LED XD6 displays are located inside of the lower level staircase, in order to provide unmissable communication for directional messages for events, crowd management and advertising opportunities.
"Absen LED was chosen for this area as it offered the robustness, size and resolution required for the environment, which is something we could only find in Absen's products," explained Harding.
"The Wembley Park project is a great example of how LED can be used to provide a digital upgrade to modernise old architecture," said head of brand and marketing at Absen Europe, Alex Couzins. "We look forward to the future developments of Wembley Park with Eclipse Digital Media."
Ultimately, the entire project was a huge success, and has modernised Wembley Park's most iconic routes and structures. The digitalisation of these areas has not only developed them but has also solidified that an experience at Wembley Park begins far before the entrance to the stadiums. Further digitalisation is planned for 2021.