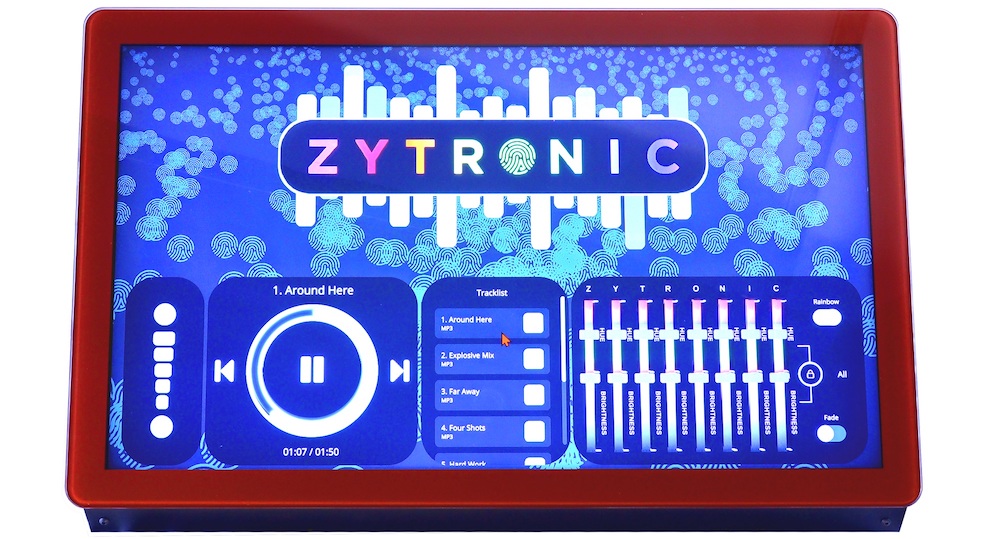 Zytronic will showcase an array of exciting multitouch demos at Integrated Systems Europe (ISE) 2023. Visitors to the stand will be able to immerse themselves in touch-enabled interactive content through a variety of thought-provoking use cases.
The first experience of visitors to the stand will be in the form of a stylish, white coffee table, as often seen in cafes and restaurants. Notably, this particular table incorporates a 33in circular multiuser touchscreen, which is fitted with two mechanical buttons within its active zone, combining digital and physical interactivity. The buttons appear to be 'floating' within the display's viewing area as there are no connecting cables or power cords – this unique appearance is a patented Zytronic technology.
Zytronic will also showcase a desktop curved, 49in ZyBrid multitouch sensor integrated to a 32:9 ratio Quantum Mini-LED curved display, providing a truly immersive user experience. In addition, three 55in near borderless screens with matching-sized ZyBrid edge sensors will be on display, tiled in portrait orientation, demonstrating Zytronic's latest interactive digital signage technology for video walls.
Also on the stand will be an eye- and ear-catching Hi-Fi concept demonstrating how the company's newest ElectroglaZ technology can invisibly power various devices via glass panels – in this case, a pair of wirelessly connected speakers, a media player, an LCD display, and LED lights. The system also integrates Zytronic's ZyBrid projected capacitive touch technology with carved features on the surface of the glass to provide a tactile feel for users to adjust the volume, pause, and so on.
The final demo is a mock-up of a mixing desk for sound or lighting engineers. The 32in glass panel integrates Zytronic's ZyBrid projected capacitive multitouch technology with touch active sliders and a dial machined into the glass surface, enabling accurate and easy-to-use controls when the user's attention is focused on other tasks and cannot look at the mixing desk.
"The key takeaway we'd like to give visitors to our stand during ISE 2023 is a sneak peek of how designers can utilise Zytronic's various technologies," said Dr Andrew Morrison, Technical Director, Zytronic. "Whatever the device or devices you wish to make interactive, we can help you develop a creative system solution, utilising our 20-plus years of expertise in projected capacitive touch technology, transparent power delivery, machined surface features, lamination, printing, and optical enhancements."