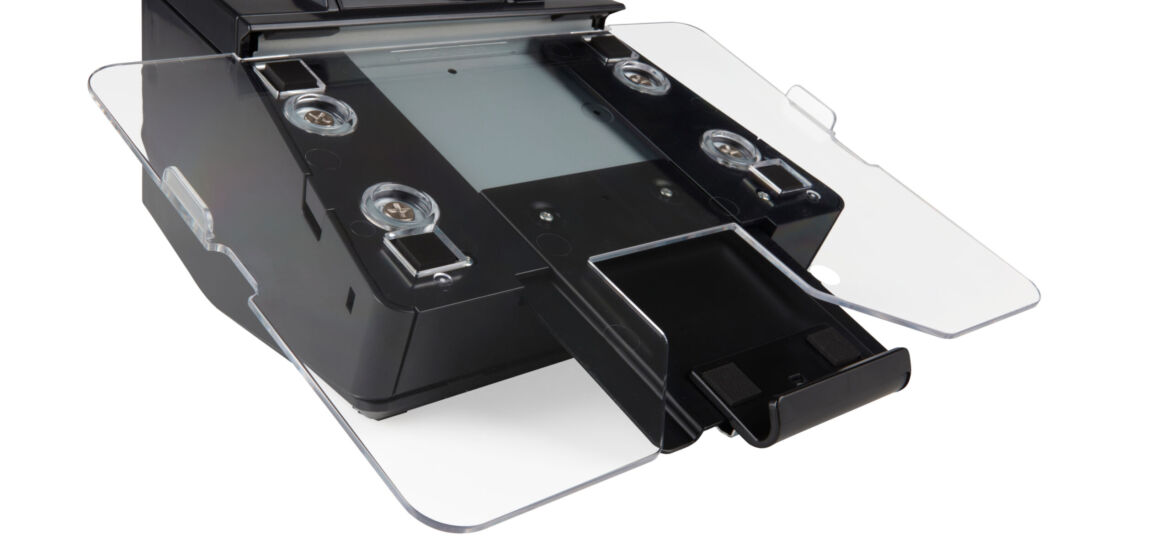 Following an extensive collaboration with European mPOS ISVs (independent software vendors), Epson has introduced the TM-M30II-SL. This all-in-one mPOS solution has been specifically designed to meet strong market demand for point-of-sale solutions that are both easy-to-use and stylish enough to blend with the modern design of boutique outlets, small restaurants, bars, coffee shops, delis, pop-ups and food trucks.
The TM-M30II-SL has been recognised with a prestigious iF Design Award for its blend of elegant aesthetics and functionality. The low-profile, ergonomic design is stable and blends stylishly into modern retail counters. There is internal routing for the power supply and peripheral cables, ensuring they are neatly tucked away out of sight for an uncluttered till space.
It also features an ingenious sliding clamp that allows the tablet to be secured safely in place when in use but is quickly and easily released and removed when needed. The clear acrylic backplate is available in two sizes, meaning it's compatible with any size tablet and is future-proof for tablet upgrades.
The versatile TM-m30II-SL also provides the option for wall-mounting – ideal for when space is at a premium or for retailers requiring a cost-efficient solution for self-order kiosk functionality.
Dayle Guy, Product Manager, Business Systems at Epson said, "Through our extensive collaboration with ISVs and customers, Epson understands the strong demand for mPOS solutions that are not just reliable and easy to use but look great too. Small retail outlets are attracting customers with modern, beautifully designed environments and they want an mPOS solution that blends in seamlessly and enhances that customer experience.
"With the TM-M30II-SL, Epson is empowering ISVs to deliver an affordable, integrated solution that is quick and easy to set up without the need for IT support, that is flexible and versatile for small spaces and offers unparalleled Epson quality."