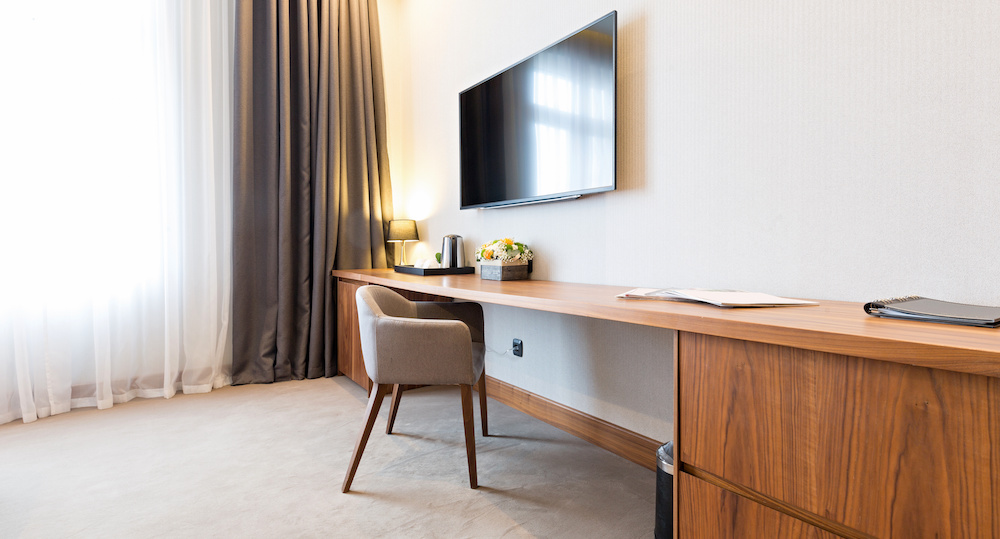 Nadav Avni, CMO, Radix Technologies
Radix Technologies
https://www.radix-int.com/
A few years ago, the typical hotel guest experience centred around amenities outside of the internet, like stocked minibars and 1,000-count sheets. Room entertainment usually meant a standard TV with cable channels and maybe some pay-per-view options. To learn about out-of-room dining options, facilities, or special programs, guests needed to consult the concierge.
The availability of broadband internet improved guest experience immensely. At the centre of these changes was the introduction of the smart TV, providing entertainment and information on-demand. Instead of just waiting for a scheduled TV show or movie, hotel guests can now watch videos on their own time. In addition, hotels can also use smart TVs as in-room information kiosks. They can display the hotel's list of scheduled activities, show available dining options, and even deliver weather and travel advisories. Smart TVs can also serve as a secondary means of communication, allowing guests to make reservations, request additional services, or order food and drinks without leaving their rooms.
Smart TVs Help Deliver an Enhanced Guest Experience
Smart TVs have become key to ensuring a satisfactory guest experience. According to the Hotel Internet Services' 2020 Guestroom Entertainment Study, many hotel guests like watching video-on-demand streaming services while staying at a hotel. This includes the likes of Netflix, Hulu, Disney+ and HBO. However, the majority (71%) prefer to cast content from their own devices rather than from a hotel's VOD services.
Casting, however, comes with its own set of challenges and while guest experience remains of the utmost importance, management around this aspect of said experience needs to be managed well. A simple example could be seen in the guest checkout scenario. When checking out, some guests may forget to log out of hotel smart TVs. They may also inadvertently leave behind their viewing history and other personal data, leaving hotel IT staff to rectify the situation. However, manually performing these tasks for hundreds or thousands of devices can be daunting. Not to mention, this type of service requires considerable time. After one party leaves, hotel employees usually only have one or two hours to prepare the room for the next. That's why most hospitality companies prefer to take care of this and other smart TV maintenance tasks remotely. Thankfully, the right device management software can perform this job admirably.
The Need for Device Management Software
A typical luxury hotel has an average of 300 rooms, each containing at least one smart TV. Plus, there are dozens of additional sets scattered all over the hotel that function as digital lobby displays and information boards. Like any other smart device, hotel TVs require a working operating system. These commercial smart devices often run on Android TV OS. This operating system offers great flexibility and allows devices to install popular apps, like streaming services (Netflix, Hulu, etc), social media apps, productivity and media players.
Managing these devices requires equally smart device management software that is up to the task. Hotel smart TVs need constant monitoring, regular maintenance, and occasional security assistance. Having a system that performs remote management—compared to onsite technicians—can save the company time and money. Remote management also reduces support calls, as it eliminates the need for human intervention when diagnosing and repairing software.
Monitoring and Maintenance
Developers of the operating system and the apps will regularly release updates or patches, which users need to install. Performing these installations and updates is especially cumbersome when done manually. Having device management software that can remotely connect to each device and perform the updates is a far more efficient solution.
Management and Security
Smart TVs also require management to protect the device and its private data from being accessed by unscrupulous users. Usually, system administrators will limit hotel guests' access to selected apps. They will implement device security measures in case some guests attempt to install additional apps, tweak system settings, or launch unauthorised programs. They can choose to disable the device. In the extreme case of theft, they can also wipe any data from the device entirely.
Access for Different Stakeholders
Another key feature of device management software is its ability to assign different access levels for different stakeholders. Not everybody needs complete access to the smart TV's operating system, applications and user data.
IT Administrator
As the primary managers of these smart devices, IT administrators are in charge of centrally monitoring and managing the fleet. They also have the task of assigning individual user access levels.
Technical Support
Technical support members are the service team that performs the regular maintenance and upkeep of all devices in the fleet. They perform updates on the system and all applications, install new programs, and check device health—completely remotely.
Executives
Executives are given administrative access to each device's recorded user data. They can collect device information to generate insights and make decisions.
Finance
Finance employees receive monitoring access that allows them to view the account status of current users. Once they discover users with delinquent accounts or expired access, they can recommend disabling or freezing the assigned devices. They can also help with the tracking of stolen or lost devices and then make similar recommendations.
Project Managers
Project managers also have data access so that they can perform deep-dive analyses of each device's usage. Based on the generated insights, they can make evidence-based recommendations to management on what programs are popular among users and which ones need additional support or promotions.
Marketing
Marketing specialists have communication access to broadcast push messages or special announcements to all or some smart TVs. They can use the network's broadcast features to schedule the delivery of curated messages and offers to target audiences that can generate additional revenue for the hotel.
Developers
Aiding the system administrator, developers have system access to look into the current system and diagnose problems. Using the software's API and SDK, they can formulate solutions and features that can further improve the guest experience.
Deliver the Ultimate Guest Experience by Remotely Managing Your Entire Smart TV Fleet
In order to unlock the full potential of each hotel's smart TV, consider investing in reliable device management software. This integrated solution performs remote maintenance and management of the entire device fleet. On top of having fuller control over your smart TV fleet, the company also saves valuable resources. Device management software generates savings on administrative and technical support costs by reducing or outright eliminating the need for field visits and technical support calls.
Protect your hotel's smart TV investment, your guests, and your reputation by ensuring you have reliable device management software servicing your fleet 24/7.