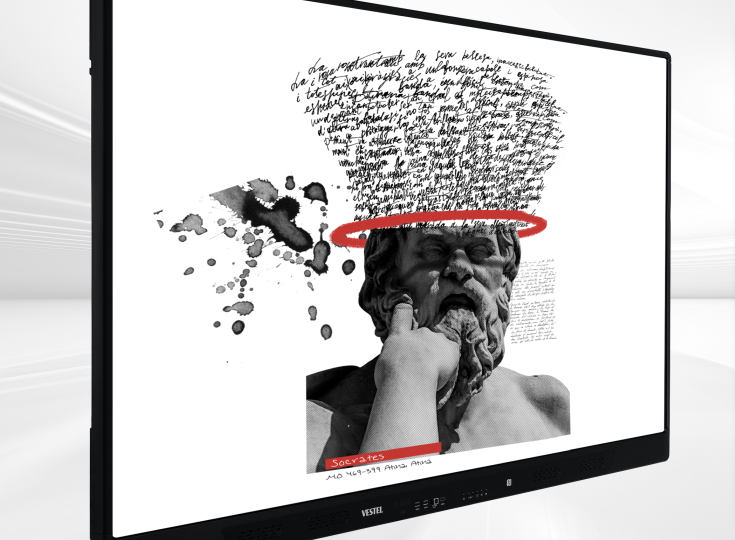 Vestel Visual Solutions has marked the launch of its next-generation IFX Series of 4K interactive displays with the creation and showcase of its own NFT art collection.
Depicting some of the greatest thought leaders of all time, including Aristotle, Socrates and Hippocrates, the tokenised artwork has been designed using the IFX displays' intuitive whiteboard application. Made up of six pieces, the NFT art collection is now live on OpenSea.
Selcen Uyguntuzel, Deputy General Manager of Sales, Vestel, said, "Offering a tailored technology solution for both the classroom and the boardroom, the Android 9.0-powered IFX displays inspire and support creativity in all forms, from design and ideation to dynamic problem-solving. For the IFX Series launch, we wanted to be able to illustrate this in a fittingly creative and dynamic way. By using the IFX Whiteboard application to create our own digital art collection, we believe that we have managed to achieve this. We have not only become one of the first AV brands to design and then mint our own art but also to use an NFT collection as part of a product launch."
Of the NFT artwork, Barış Altınkaya, Deputy General Manager of Marketing, Vestel, added, "A fun collection, the art itself is a nod to the great trailblazers who have paved the way for today's leaders, and tomorrow's next generation of dynamic thinkers."
Regardless of lighting conditions, the anti-glare, high brightness displays support 4K HDR content from within an ultra-slim bezel design. The series also features two powerful 20W front-firing speakers, clarifying on-screen dialogue.
The displays' twenty-point IR touch technology facilitates collaboration, giving multiple users the opportunity to work on the screen simultaneously.
The Quick Palette feature can be launched for fast access to the pen and highlighter, as well as screen capture and screen crop tools. The displays also ensure an ultra-responsive pen-to-whiteboard writing experience.
The whiteboard application offers a big-screen blank canvas using the displays' pen and touch tools. To facilitate interaction, the displays' high-precision, magnetic pen provides the option of auto-recognition for colour, as well as two pen tip sizes.
Educators and team leaders can pull up additional content from the displays' built-in Chromium web browser to help illustrate their points.
With the Eshare app, you can wirelessly share content to and from all connected Android compatible devices. The user also has the option of using QR codes, which allow guests to connect wirelessly to the displays from any connected device.
Powered by the Android 9.0 OS, they can support different teaching styles, student needs and business goals, while interactive presentation and collaboration software, Qwizdom Oktopus, provides further support for education, offering 70+ subject-specific teaching tools to choose from.
The IFX Series delivers a range of connectivity options at the front of the displays. These include multiple HDMI inputs, as well as the USB Type-C port and open pluggable specification (OPS) slot. For fast and secure logins, assigned fob cards can be used to access accounts and settings, thanks to the displays' NFC sensors. And with the optional cloud-based Vestel Board Management system, IT departments can securely set up teacher profiles.