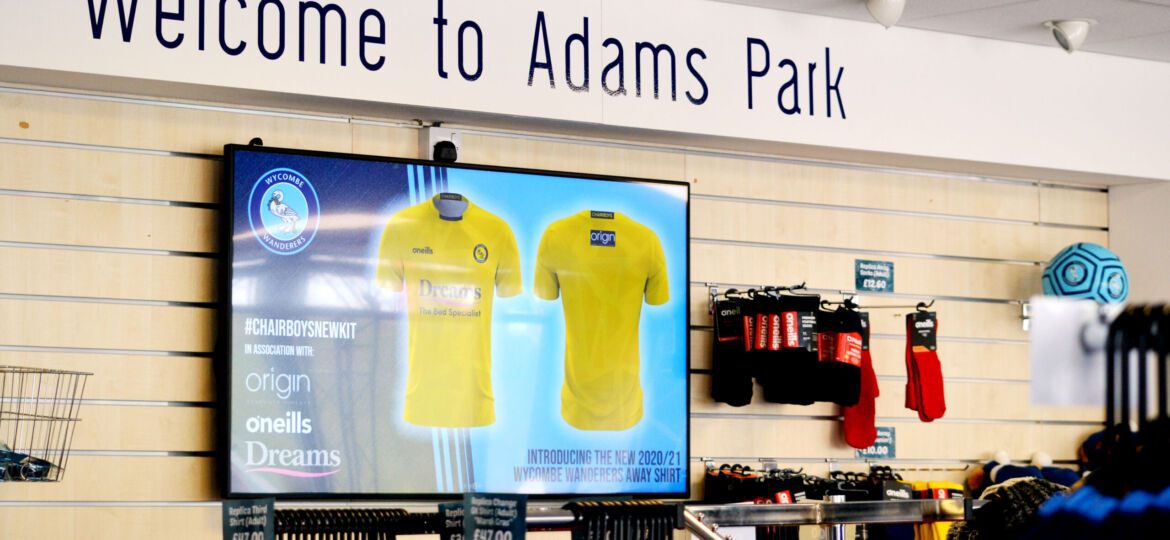 Vestel Visual Solutions has announced that it has been selected by Wycombe Wanderers FC as its official AV Partner. Vestel's digital signage and interactive displays have been deployed throughout Adams Park as part of a major infrastructural project to digitally transform the stadium and boost fan engagement.
Over 50 Vestel displays have been fitted to enhance key supporter areas across the ground. Within the club shop, which fronts Adams Park, a 75in PDX75 screen provides a stunning window display, with 2500 NIT brightness ensuring incoming fans can see the latest content in vivid detail as they approach the stadium – visible even in the summer. Within the store itself, a slimline 55in UHD model, alongside multiple 37in stretched displays, offer eye-catching visuals to promote the club merchandise, as well as wider news from the club including ticketing information for upcoming matches.
Within the stadium itself, multiple bar areas including Monty's Bar, Honours Lounge and the Vere Suite have been equipped with an array of vibrant digital signage solutions, which are expected to play an important role in encouraging supporters to spend more time in the stadium prior to kick-off, or for the screening of away games. This is integral both in terms of building the pre-match atmosphere, as well as from a business perspective, with matchday income making up a significant proportion of the club's revenue.
Of particular importance is the club's standard 15:00 Saturday kick-offs, with many supporters often wishing to watch the earlier televised match prior to Wycombe's game. With each of the key viewing areas across Adams Park now fitted with a number of displays of varying resolution, brightness levels, and sizes – from 55in up to 86in – fans are guaranteed a premium viewing experience when meeting at the stadium pre-match. Menus within bar areas have also been upgraded from paper to digital, with the installation of 55in displays in portrait orientation.
Neil Peters, Chief Commercial Officer, Wycombe Wanderers FC, said, "We've worked closely with Vestel to upgrade our AV offering across Adams Park, installing enhanced displays which provide a crisp and clear viewing experience for supporters across all areas of the stadium. We can't wait to welcome fans back to our home in due course for a vastly improved digital experience throughout the stadium, whether browsing in the club shop or soaking up the pre-match atmosphere in the concourse, bar or executive areas."
David Flintoft, Sales and Marketing Director, Vestel Visual Solutions, said, "We're delighted to partner with Wycombe Wanderers FC, supporting the club's efforts to digitally transform Adams Park through our diverse portfolio of premium digital signage and interactive displays. We have extensive experience in delivering AV solutions within stadia across Europe. In applying this to Adams Park, the stadium now delivers a first-class pre and post-match gameday experience, as well as enhanced facilities as a wider hospitality venue."
Beyond the communal fan areas within the stadium, Wycombe Wanderers has also invested in enhancing its Executive Boxes, each now equipped with a 55in high brightness display for an even more premium experience. A state-of-the-art Content Management System (CMS), supported by advanced Wi-Fi, means all displays can be managed centrally and with ease, to ensure relevant content is showing on each and every screen, depending on its location within the stadium.
Further still, the club has deployed additional Vestel solutions to support wider football and business operations. The home dressing room now features a 55in 700 NIT display to support pre-match tactics and analysis, while a 65in interactive PCAP model with Windows 10 OPS PC has been installed in the boardroom, ensuring more efficient meetings as well as the benefit of touchscreen functionality when presenting. There is also a 65in PCAP installed at Wycombe's training ground, used by the team's coaching staff, analysts and players to review performances and tactics.