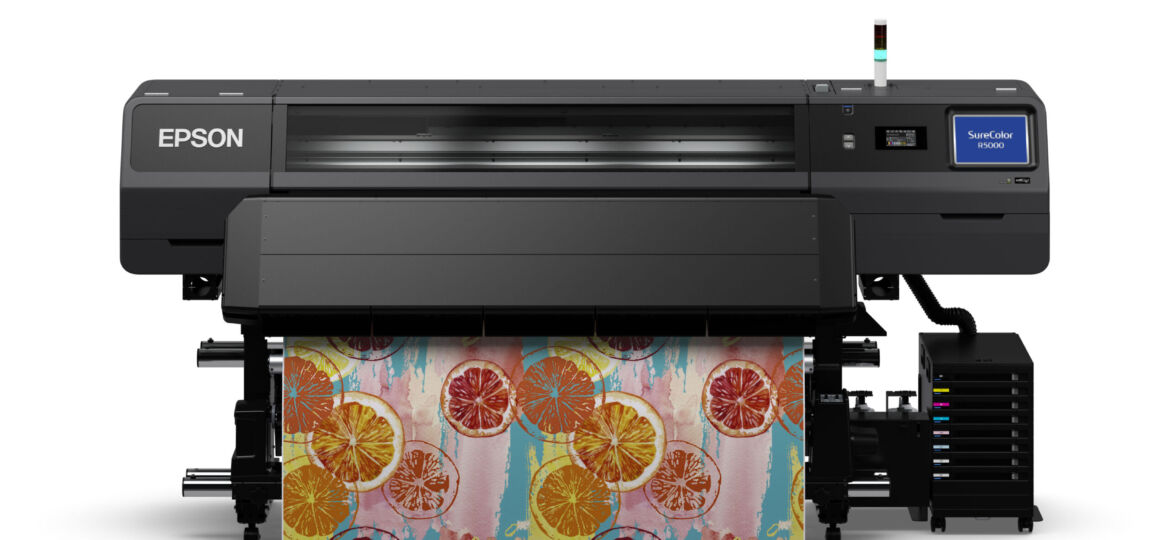 Creative colour capabilities will take centre stage at this year's Sign & Digital UK when Epson showcases solutions that combine application flexibility with vivid and vibrant image quality in Hall 2, Stand J40, Birmingham NEC, March 22-24.
In its first public UK showing, the ultra-productive SureColor SC-V7000 UV flatbed printer, will demonstrate how to produce bright, colourful, tactile prints with low graininess and smooth gradation on a variety of media, including rigid substrates. It features 10-color UltraChrome UV Ink, including vivid Red Ink and opaque White Ink, as well as an eye-catching varnish. Designed with ease of use in mind, the SureColor V7000 enhances efficiency and accuracy with a variety of unique features, including a multi-zone vacuum system that keeps materials securely in place and automatic thickness adjustment to instantly accommodate media up to 80mm thick.
The powerful combination of accuracy, media flexibility and reliability will be presented by the SureColor SC-R5000L. Epson's first resin ink large format printer can print on a wide range of substrates such as vinyl, banner, textile, canvas, wallpaper and film with odourless water-based ink, enabling applications to be used in sensitive environments such as schools, hospitals and hotels. It also produces extremely durable results for outdoor use. It uses three Epson print technologies that reduce graininess and banding: halftoning, fully optimised lookup tables (LUT) and Micro Weave.
How to create everything from simple signage to high-end displays and décor on a range of substrates and finishes including clear film, vinyl, canvas, wallpaper and photographic paper, will be presented by the reliable, productive and media flexible SureColor SC-S80600L. High-quality results are assured by Epson's Precision Dot Mode and expanded colour gamut, using 10 colours, including white and metallic.
Also featured on the stand will be the Epson SureColor SC-T7700D designed for architectural, engineering and construction (AEC) companies. It produces detailed and precise CAD plans and drawings as well point of sale (POS) posters that exactly replicate logo colours. The dual-roll printer offers the highest levels of security together with exceptional productivity and image quality. The 6-colour UltraChrome XD3 ink set uses a new red ink, delivering vivid depth of colour and crisp, sharp lines.
The Epson SureColor SC-F500 dye-sublimation printer will show how fast work can be made of applications such as phone covers, mugs, mouse mats, t-shirts or cushions. Built with ease of use, productivity and efficiency in mind, it requires no specialist knowledge to set up, operate or maintain.
Epson's SureColor SC-F2100, with heat-press, offers a complete DTG package for designing and printing durable t-shirts, polo shirts, sweatshirts, baby clothes, tote bags and other cotton items with eye-catching, high-quality, vibrant colours and solid whites. It prints directly onto cotton and has a wide colour gamut using UltraChrome DG ink that has been awarded ECO PASSPORT certification by OEKO-TEX. It also prints onto dark fabric with ease as the white ink is extremely tough.
Throughout the stand, a wide range of applications – many on eco-friendly substrates — will showcase vivid, vibrant and eye-catching possibilities including banners, wallpaper and floor graphics.
Phil McMullin, Pro Graphics Sales Manager, Epson UK, stated: "Nothing captures attention like bold striking colours and when used creatively they can make a lasting impression. This ability to deliver memorable print, imaginatively, to a very high standard, on a diverse range of substrates, is among the key messages we will be conveying at Sign & Digital UK. We will also be presenting a number of eco-friendly possibilities to demonstrate how application versatility can answer a broad range of market needs."