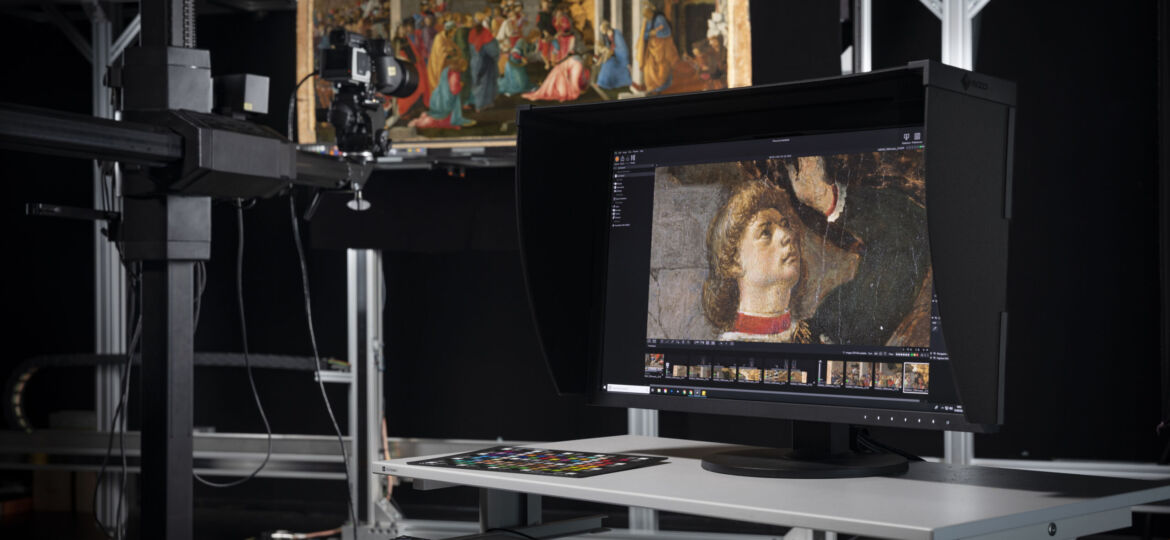 Visual technology company, EIZO, has showcased its work with the world-renowned National Gallery, after monitors from its ColorEdge product line were used to document and investigate part of its extensive collection.
The National Gallery Photography and Imaging Department documents the gallery itself and the gallery's paintings collection. The photographers also perform a range of imaging techniques such as X-radiography, UV-visible luminescence imaging, raking light capture and photogrammetry that help better understand the paintings, how they were made, how they have been treated and how best to care for them.
To fully appreciate the images captured and to allow the photographers to inspect their work, they require especially high-quality monitors. The EIZO ColorEdge collection offers just this quality, with monitors that are also large enough to display all of the panels of the various computer applications being used while still showing a large preview of the photograph that has just been taken.
The importance of high-quality photography of the collection was highlighted during the first Covid-19 lockdown, when the gallery was closed for the longest time in its history. For 111 days, the gallery was closed and the only way people could enjoy or study the collection was through photographs.
Andrew Bruce, Photographer at The National Gallery, commented: "Our department began using the ColorEdge monitors in December 2019 and so far we've been really happy with them".
"When creating such precise images of some of the greatest works of art ever made, we need to work with a similarly precise monitor. No matter the imaging technique, the ColorEdge has helped us to boost productivity and precision through its automated calibration and the exactitude with which it allows us to examine our images.
"Features such as the 3D LUT in the CG279X monitors have been great, as this shows a more precise representation of the tonality of the images we're looking at, and a difference that's noticeably better than the previous high-gamut monitors we were using with just a standard LUT."
Jenny Hamm, Sales Manager at EIZO, added: "Knowing our products are providing solutions to a cultural institution like The National Gallery has embedded a real sense of pride within the team. We know how good our monitors are and what they can achieve, but to hear just how much it has positively impacted our customers we never tire of!"