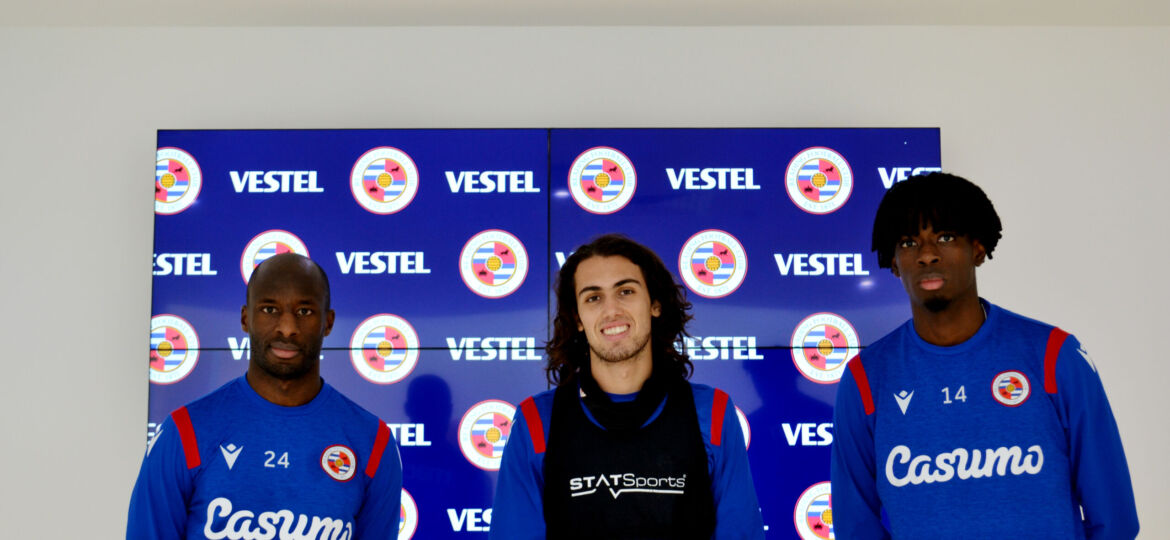 Vestel Visual Solutions, a global manufacturer of professional display solutions, has announced it has been selected by Reading Football Club as its official Visual Technology Partner. Vestel's digital signage, interactive screens and video walls have been deployed throughout the club's training complex at Bearwood Park in order to support a number of activities, ranging from tactical analysis to providing players with fitness and nutritional advice.
The new Bearwood Park facility is home to Reading FC's men's and women's first teams, young professionals (Under-23s and Under-18s) and Academy players from ages 8 to 18. It also houses the coaching staff and management team, alongside a significant proportion of the club's administrative staff. Amongst its numerous training pitches are three full-sized first team pitches that mirror the exact dimensions of Madejski Stadium, a floodlit all-weather surface, and a goalkeeping practice area.
Reading FC has now equipped the facility with Vestel's screens to digitally enhance areas such as the yoga room and first team gym, the media room – which includes an interactive screen that uses touch screen technology to support both interviews and analysis – the Academy and the women's Academy, the manager's office, the parent's room, reception areas, the medical room and multiple classrooms. These solutions will support the education, training, rehabilitation and performance of the club's players, as well as its corporate activities.
"Our commitment to the elite performance of our players meant we outgrew our old training facility, Hogwood Park, and as a result we've spent a number of years designing and building Bearwood Park," said Tim Kilpatrick, Head of Sales and Partnerships at Reading Football Club. "We chose Vestel to support our vision for the facility, both because of the quality of its screens and for the dedicated support provided by its team, who truly understand our needs. Vestel's solutions will play an integral role in the daily training programmes followed by our first team, women's team and the next generation of Reading players, whilst also supporting the club's corporate ambitions."
"From a playing perspective, Vestel's technology will play a significant part in the training and development of players across every age group," said manager Veljko Paunović. "Both our men's and women's first team operate at an elite level and being able to constantly communicate key information to players throughout every day spent at the training ground – whether that is providing tactical analysis in training areas, or rehabilitation information in the physio room – can make the difference and help us gain a competitive edge.
"Equally, with our esteemed Academy seen as such a crucial part in the club's long-term plans, we are now able to use Vestel's displays to provide younger players with the same information as we do our senior teams."
Equipping training grounds with state-of-the-art AV technology is important, not just for upgrading the look and feel of the venue, but also to diversify the ways in which it is used. For example, digital signage and interactive screens can be used for analysing player performance and the strategy of upcoming opponents, as well as to display medical and training information, providing insight for Academy players' parents, or to support the executive team with presentations and meetings. Video walls can also be used for various educational or performance content and to boost morale with inspirational messaging.
Maintaining its status as a Category 1 Academy within the Premier League's Elite Player Performance Plan (EPPP) is also instrumental to Reading's long-term strategy, and comes with a number of obligations which Vestel's solutions will support the club in meeting. This is not just limited to the support and training on offer from a football perspective, but also in the club's duty to provide formal education to its Academy players – with Vestel displays also being used in these classroom environments.
"AV solutions are an extremely effective tool to help football clubs achieve their core objectives – whether in terms of training, marketing, corporate activity or purely for entertainment value," said David Flintoft, Sales and Marketing Director, Vestel Visual Solutions. "Reading FC has an impressive training programme and Bearwood Park has been intuitively designed to support this. We are thrilled to have played a part in bringing the facility to life with our technology, and are looking forward to continuing our partnership with the Club."