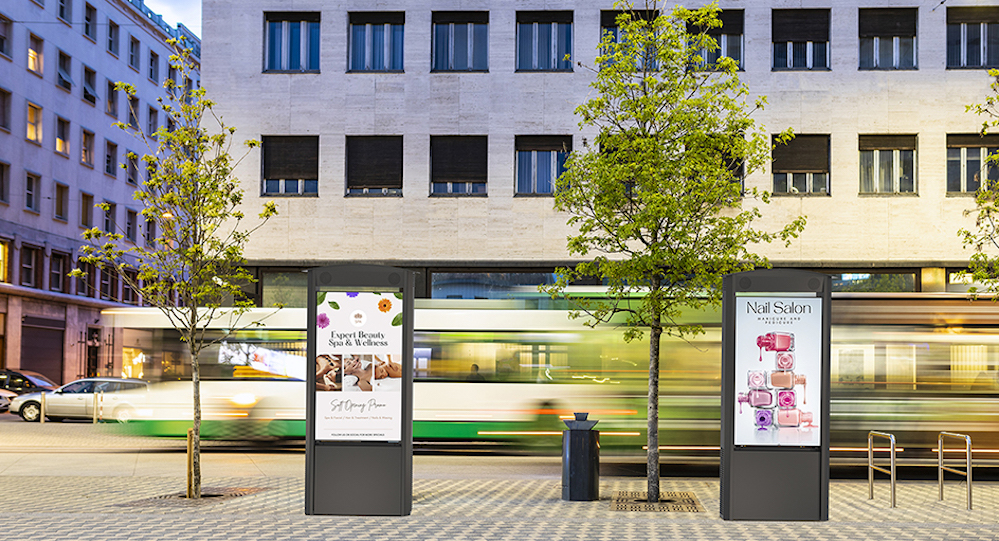 Peerless-AV has announced the global availability of its new generation Smart City Kiosks. Shown for the first time in EMEA at ISE 2023, the new Single (KOP55XHB-EUK) and Dual-Sided (KOP55XHB2-EUK) models have been designed in response to customer feedback and demand.
Key upgrades facilitate a simplified installation for running power and data cabling while offering a dedicated storage space for media components. The Dual Sided model is brand new to the range, offering increased screen space and opportunities for revenue-generating digital advertising and wayfinding. These Smart City Kiosks offer supreme versatility in a wide range of verticals, including retail, government, transportation and visitor attractions.
"Our Smart City Kiosks have been hugely successful in EMEA and International markets, and now these new generation models are in high demand after a positive reception at ISE in Barcelona," said Keith Dutch, MD EMEA, Peerless-AV. "We're pleased to announce that both Single and Dual-Sided models are now available to order globally. They provide an attractive, flexible, functional outdoor digital signage upgrade for any end-user organisation seeking to replace an existing static- or low-engagement signage solution in urban areas."
The KOP55XHB-EUK models incorporate one 55in Xtreme High Bright Outdoor Display (XHB554-EUK) and the KOP55XHB2-EUK models feature two 55in Xtreme's, installed back-to-back. The two screens can play content independently or can operate from a duplicate feed, within a slim, modern and aesthetically pleasing design.
The Xtreme displays offer full HD 1080P resolution for a bright and crisp picture even when placed in direct sunlight. The fully-sealed, IP66 rated design prevents foreign materials, such as water, dust, moisture and insects from entering the display and has an operating temperature of -35°C to 60°C. The displays can be enhanced with an optional IR touch overlay (KIRP-XHB4), which can detect up to 10 touch points, whether finger, gloved hand or stylus, all in a convenient plug-and-play design.
Installation simplicity is factored into all design aspects of the Smart City Kiosks. A base cover allows power and data cabling to run upwards from the bottom centre and secure doors allow quick access for maintenance purposes. An IP55 rated media cabinet provides a spacious, enclosed storage area for AV components and integrated fans for active cooling.
The Smart City Kiosk is wind tested up to 135mph and its stylish, stainless steel and aluminium body, combined with an outdoor rated paint finish, provides the ultimate in corrosion resistance.