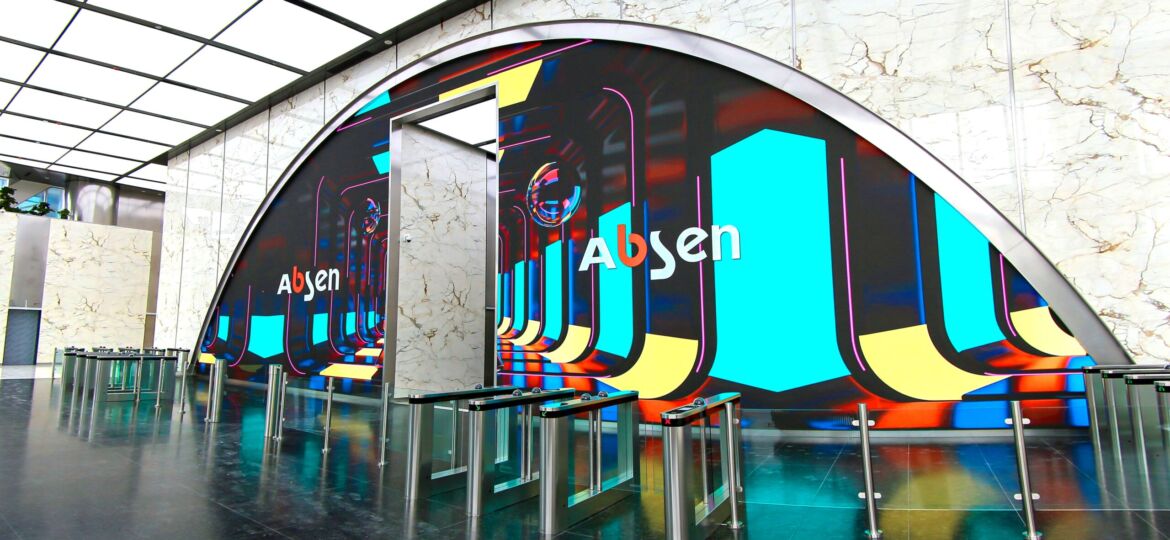 Arched 12K ultra-high-definition screen transforms corporate lobby space with over 52 million pixels
LED display specialist, Absen, recently completed an installation in the Guiyang International Financial Centre. At over 400 metres in height with 79 floors, it is the tallest building in Guiyang, the capital of Guizhou Province in Southwest China – creating a true landmark when it opens later this year. 
To welcome visitors and employees, a 12K ultra-high-definition LED display was fitted into the building's reception, known as the 'Art Hall', helping to create an awe-inspiring impression from the moment they enter the door. At 7.7m high and 23.6m wide, the videowall boasts over 52 million pixels, delivering crystal clear content to paint a picturesque scene in the corporate reception and elevator hall.  
The display is made up of 140 sqm of 1.8mm pixel pitch LED from Absen's N Plus series, installed in a semi-circular shape. One of the critical elements of the design was installing the screen around the elevator entrance hall, with a secondary 'cut-out' screen being positioned at the far end of this area, helping to create the perception of depth. This turned an otherwise passive space into a highly interactive and dynamic environment, in keeping with the architectural design of the building. 
Absen's N Plus series is an innovative LED display that has been specially designed for permanent indoor environments such as corporate lobbies, retail spaces and transport terminals. At only two inches depth, the N Plus is one of the thinnest and lightest front installation and maintenance products on the market, with 800 nit brightness and superb contrast. The product also features smart modules, which provide real time performance tracking alerts in case of any failures.
Terry Zhu, product director at Absen comments: "The sheer size of the screen and its creative semi-circular design called for a display with exceptional flatness and flexibility around the panel sizes. Absen's N Plus product was the perfect choice for this project and the visual performance is even beyond our own expectations.
"In addition to Absen's robust and reliable product quality, service support was equally critical to this project. With Absen's proactive, fast, standardised, and thoughtful' localised service, the project was completed in 35 days."